Using Weather in MSFS Tutorial Video

2 reviews
Was: $12.00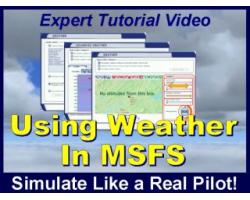 Media Format

Immediate Download

Compatibility

Stand Alone (Video file)

File size

152 MB
Note: This product is based on the FSX version. An upgrade based on the 2020 version of Microsoft Flight Simulator is under development.
One of the most important things for any user of flight simulators is being able to integrate every feature into the way that you actually fly. This means trying to replicate the real-life detail and procedure that a genuine pilot would take at any given time, in every aspect of the flight experience. This includes the weather, of course, but without the right training then utilizing the weather properly in a flight simulator can be quite a difficult thing to achieve.
This is why the latest tutorial from Bill Stack, Using Weather in Microsoft Flight Simulator, gives you the greatest chance possible of manipulating the weather to look as realistic and effective as possible to really maximize your experience. With so much learn and include into your flight technique and style, it takes a lot of learning to get the right aspects of just flying the aircraft first. When you start trying to add in the extra features that really deepen the experience, some people can feel uncomfortable doing so.
However, this tutorial is designed to create full clarity for managing the weather within Microsoft Flight Simulator. One of the most complex yet controllable features within the entire simulator, being able to manipulate this to your own needs is immensely powerful and can really enhance the experience for anyone who has knowledge of experience of flying in the weather. The games own features can be tweaked and modified to really provide that genuine, realistic weather experience.
How Do I Install The Files?
Perfectly usable on any traditional media device, including mobile platforms like tablets, you can easily pick up professional information and advice from a flight simulator expert. It helps you learn the smallest details and help you get over those moments when logic fails you and a solution just will not present itself – by using these tutorials, you will find that your flight simulations are more realistic then ever before.
One of the most difficult parts of using a flight simulator is getting to the grips with the learning curve. Unlike traditional video games, there's a lot of to learn and take in. this is why the videos are made viewable easily on portable devices, so that you can do as you see on the screen rather than trying to act after the moment has finished. So long as you have 161MB of space and a video player on your mobile device or tablet, you can calibrate your simulation experience to the very style that you want.
What Do I Learn?
You will start by learning the key factors in putting together the weather simulations properly in Microsoft Flight Simulator. This can take quite a lot of time, and usually includes a lot of messing around and trial and error. However, with the tutorial video that lasts for more than twenty minutes, you get to find out how to use the custom and advanced weather features to mimic real-life and create the most complete flying weather conditions available to you.
You will be given a crash course on;
Accessing the weather options in their entirely
Using the weather themes and styles within Microsoft Flight Simulator
Creating realistic weather that moves with you
Adding in custom weather and advanced weather patterns
Creation turbulence, precipitation, winds and clouds with ease
Adding extra temperatures, dew points and atmospheric pressure
Creating layers to your weather for even more precision
The optimal settings for realistic weather
Applying realistic aviation weather to the flight simulator
Brilliant real-world aviation data for perfect detail
As well as this, you will get a free PDF document that teaches you a lot of the best features in text. This makes it easy to refer to even when you are in flight, allowing you to jump in and out of the game to create new weather experiences that could make all the difference to your general level of enjoyment.
This teaches you everything turbulence and icing techniques to learning the theory behind making genuine, authentic weather that matches just what you originally intended to make. Whether it's a thunderstorm or high temperatures you want to mimic, you'll find all the information that you need within the included PDF document.
Learn From The Best
When it comes to using the Microsoft Flight Simulator series, you would be hard pressed to find somebody with more credibility about knowledge & practice than the author of this package. The design nature of the entire tutorial means you will never receive too much information at once, making digesting what you are learning much easier. You'll pick up key information about the flight simulation experience that has been created with professional software and equipment. Everything is clear and easy to understand, and digital examples are easy to follow.
Animated highlights have also been included for the most key aspects of the tutorial, allowing you to take in the most vital points right away with easy to follow information on-screen. The audio quality has been refined time and time again and with an easy to understand accent, there is nothing that you'll struggle to understand of hear. There are full instructions included to get everything running smoothly, and you'll feel like you have downloaded an official manual for the game, such is the depth of knowledge.
The tutorial is based on the Microsoft Flight Simulator series, so please remember that this is for simulation purposes only. Although as close as possible to the real thing, Microsoft Flight Simulator still has its limitations compared to real-life – so don't try and use this training for real-life experimentation.
Also, this tutorial purely deals with the vanilla – or basic – edition of Microsoft Flight Simulator. With so much extra out there to be added in, it would be impossible to make a tutorial that covers it all. Therefore, you can ramp up the features and quality of the weather even further by using weather packs and add-ons. None of the official add-ons or DLC are accounted for here, either.
Customer Reviews
Rated 4.0/5.0 based on 2 customer reviews
11/14/2019

3

/

5

Verified Purchase

Have been an avid flight sim'er for years. Was looking for a tutorial that would give me some insight into how to create pretty and complex cloud formations, maybe a hurricane or a tornado (being ridiculous here) ... you get the point ... but all I got was a well produced video explaining the Microsoft written instructions. If you don't know A THING about FSX weather, this is a nice, concise start.
10/19/2014

5

/

5

Very well made sample video, I always find it difficult to fly a 747 into a hurricane, perhaps these weather books and videos will do it. DAVE
Submit a review of this product
Customers Also Purchased