This addon is compatible with
Microsoft Flight Simulator X
. It should also work with
Microsoft Flight Simulator X: Steam Edition
. Some developers have explicitly stated compatibilty with Steam Edition but others haven't. Check the product description below for guaranteed compatibility. Just because it doesn't mention it, this does not mean it will not work with the
Steam Edition
.
Sound Pack Compatibility Note: This sound pack will work with any aircraft model, both freeware or payware in FSX and P3D.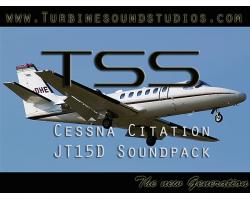 Media Format

Immediate Download

Compatibility

Microsoft Flight Simulator X inc. Steam Edition and Prepar3D (all versions including v4)

File size

59 MB
Looking for an easy way to make the Cessna Citation JT15D sound as it should? Then all FSX and FS2004 users should pick this up.
This package looks to help capture the richness of the aircraft' audio side. This will really help you to become a more adept pilot as well as enriching the simulation experience. It's the kind of add-on that can help you to learn how to judge performance simply by using your ear. That has a long-term positive effect, making it much easier for you to get used to the realistic sounds of the cockpit. From the trainee pilot to the immersion-driven simulation fan, this works perfectly.
The sounds included in this package are wide-reaching and quite varied. For example, many of the sounds include the autopilot kicking into gear through to various elemental sounds. From the wind whistling to the actual aircraft starting up/shutting down, this does a lot of good work to create the correct aviation atmosphere.
Not only will this help you to get a better understanding of the Citation, but of general aviation itself. This offers that rich, pure and authentic sound that can make such a big difference to immersion. This will help to enrich the whole simulation experience, whilst allowing you to hear sounds tailor-made to this particular aircraft. Despite only holding eight passengers, you'll hear plenty of noise emanating from the cockpit here!
With a capacity of around 15,000 pounds, you can hear this aircraft gradually pick up on the struggle with more weight. It's the little things that can make simulation feel more realistic, and this Turbine Sound Studios sound package helps to do just that.
Key Features
A full take on the Cessna Citation PW-JT15D sounds, delivered as you would expect from the real cockpit. Fully compatible with both FS2004 and FSX.
Adds in many typical flight sounds that you would hear anyway. This adds further to the richness and ambiance of your simulation experience.
Real autopilot sounds are included, making sure that the Citation II provides the most authentic sound experience both in function and in features.
Customized wind sound will whistle past the windows, too, changing as the speed of the flight picks up and the wind gets heavier.
Customized gear and flapping alongside start-up and shutdown noises really help to add to the educational experience, helping you to know when to take-off etc.
Impressive overall experience helps to educate the user on what sounds correlate with each part of the wider experience.
An authentic take on the JT15D4 engine, making sure that it sounds just as the Citation II would. Packs the same roar and punch of the real thing.
Listen to the aircraft react as you move through the gears and create various sounds in response to the amount of power used during take-off.
As you move through the numerous speeds of the Citation, you'll hear the aircraft getting increasingly busier as it goes. This really adds to the immersion
Submit a review of this product
Customers Also Purchased