This addon is compatible with
Microsoft Flight Simulator X
. It should also work with
Microsoft Flight Simulator X: Steam Edition
. Some developers have explicitly stated compatibilty with Steam Edition but others haven't. Check the product description below for guaranteed compatibility. Just because it doesn't mention it, this does not mean it will not work with the
Steam Edition
.
Sound Pack Compatibility Note: This sound pack will work with any aircraft model, both freeware or payware in FSX and P3D.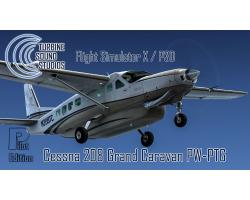 Media Format

Immediate Download

Compatibility

Microsoft Flight Simulator X inc. Steam Edition and Prepar3D (all versions including v4)

File size

47 MB
As an aircraft known for its popularity and pace in the air, the Cessna 208 Grand Caravan is a simulation favorite. Powered by PW-PT6 engine strength, this is an aircraft that is able to travel great distances in a shorter space of time than expected. Part of that comes from the immense quality of its engine. With the help of this Pilot Edition add-on by Turbine Sound Studios, you can make every flight at the helm of a Cessna 208 Grand Caravan look, feel, fly and sound like the real thing.
This add-on improves the sound system of the PW-PT6 immeasurably. It makes sure that you are left with a much more impressive sound experience, hugely improving the atmosphere when you are flying a Grand Caravan. With more appropriate sounds to the size of aircraft being flown, as well as new atmospheric sounds, every flight will feel much more immersive.
With around 49 different sounds added to the collection, this makes sure you can enjoy a much more accessible experience overall. Not only that, but you will be able to make it easier to diagnose flight mistakes and issues purely from the reactive nature of the sounds produced by the engine.
The engine itself is a very powerful engine, producing a whopping 867HP. With a vast improvement over the climb rate of prior engines, this also made sure that the aircraft could take a larger payload due to being able to pull more through the air. While it does require longer take-off and landing rolls than some similar sized engines, the PW-PT6 makes a fine choice for an aircraft the size of the Grand Caravan.
If you like to take to the skies in this Cessna, you can make sure that you have over 40 new sounds to enjoy hearing.
What's New?
Impressive new start-up and shutdown noise which are much more in line with the PW-PT6 engine sounds.
New internal engine sounds help to make sure that you can hear the engines whirring and rumbling from the pilots' seat.
Also, new external sounds make it easier for you to hear the sounds that you would expect from the cockpit of this particular engine model.
New wind sounds and other environmental effects kick in, making sure that you can hear a much more authentic and busy cockpit as you fly.
Custom distance and dynamic sounds further help to improve the flight realism, making sure you need to listen closely to spot the information being given to you by engine sounds.
Submit a review of this product
Customers Also Purchased