This addon is compatible with
Microsoft Flight Simulator X
. It should also work with
Microsoft Flight Simulator X: Steam Edition
. Some developers have explicitly stated compatibilty with Steam Edition but others haven't. Check the product description below for guaranteed compatibility. Just because it doesn't mention it, this does not mean it will not work with the
Steam Edition
.
Sound Pack Compatibility Note: This sound pack will work with any aircraft model, both freeware or payware in FSX and P3D.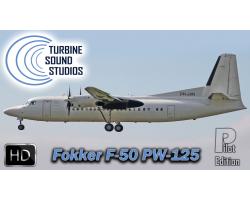 Media Format

Immediate Download

Compatibility

Microsoft Flight Simulator X inc. Steam Edition and Prepar3D (all versions including v4)

File size

72 MB
Having been around for nearly 30 years, it's no surprise that the Fokker 50 has such a strong and positive history within aviation. Its large engines and propelled nature made it hugely popular at the time of its creation, and it served in various parts of the Dutch military and other factions of Dutch airspace for many years.
Although it's out of production today, the aircraft itself still holds a really high level of respect within Dutch airlines and for this reason it is still actively being used in service. Whilst available in FSX, the Fokker 50 does not sound particularly outstanding – this is where this mod steps in.
Recreating the Fokker 50' sound packages along the way, this manages to make a recreation of the famous aircraft and remain compatible with any model that you use of the aircraft (not included) ensuring that it now has a range of HD sounds that perfectly fit the environment and the nature of the aircraft.
This remake by the brilliant Turbine Sound Studios captures the most glorious aspects of the aircraft and puts them into one easy to use package that is simple and effective in equal measure, balancing the sound out perfectly for balance and precision.
What's Included?
A huge range of professionally managed and prepared external engine sounds that really do fit the part, making the noises that you would expect of the rather ambitious design used in the electronic engine. It uses a Pratt & Whitney Canada P2124 with six-bladed Dowty Rotol propellers; an all of this can be heard in the most fascinating quality of detail throughout

Internal engine sounds make sure that the cockpit has that active and ambitious sound to it at all times, making it nice and easy to understand what is going on with your aircraft

Wind sounds that beat against the front of the aircraft and make sure that you can easily hear the elements at play outside as you fly through the skies

Cockpit environment sounds that manage to fit in all of the features and nature of the original aircraft ensuring that, if you've ever been on one of these planes, you will instantly recognize that bumping and banging sound that comes with flying something like this!

Sounds created from scratch to mimic when the gears are put down or up specifically, ensuring that you will know when you are flying with the right form throughout

Instructional videos to help you install this package with the absolute minimum of fuss, capturing the attention to detail and style needed perfectly

Designed by the Turbine Sound Studios team, this Pilot Edition manages to find all of the most loveable aspects of the aircraft and combines them into the one location, making it all bind together perfectly and look the very best that it can immediately
This Dutch aircraft has been very well received over the years, and today it stands as one of the most impressive of its kind – ready for you to start flying!
Submit a review of this product