This addon is compatible with
Microsoft Flight Simulator X
. It should also work with
Microsoft Flight Simulator X: Steam Edition
. Some developers have explicitly stated compatibilty with Steam Edition but others haven't. Check the product description below for guaranteed compatibility. Just because it doesn't mention it, this does not mean it will not work with the
Steam Edition
.
Sound Pack Compatibility Note: This sound pack will work with any aircraft model, both freeware or payware in FSX and P3D.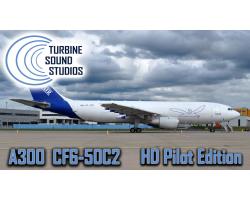 Media Format

Immediate Download

Compatibility

Microsoft Flight Simulator X inc. Steam Edition and Prepar3D (all versions including v4)

File size

97 MB
For many years, the Airbus range of aircraft has been some of the most popular around. Their domineering style and massive size makes them one of the most prominent of their kind, ensuring that people from all across the globe are capable of flying around in what is essentially a bus with wings. Using them in a flight simulator can be great fun, but one of the criticisms of these aircraft is that they lack a certain level of sophistication and style within simulators like FSX.
This mod looks to solve this problem in true style.
By providing you with a sound package that will work with any version of the Airbus 300, this package brings the whole thing to life in a way that has never been dealt with before. The Turbine Sound Studios team is experts at putting together truly outstanding packages that fit the narrative and style of the Airbus perfectly, encapsulating their booming noise and extremely defined profile for everyone to use.
This version of the Airbus 300 is known as the Pilot Edition; this means that all sounds are edited and improved to make it sound as if it's coming from the actual cockpit environment instead of anywhere else. This balances the sound perfectly and makes the whole thing sound just the way that it should have when it was originally released.
What's Included?
A huge range of engine sounds both internally and externally that capture the sound and profile of the aircraft perfectly. It makes everything sound splendid when it all works together in tandem, making the whole thing come together perfectly as well as alert you to where and when engine problems could be started – the noise is balanced out to fill the whole cabin just as it would in real life

The environment has been transformed too in terms of the audio, with things like wind sounds beating down on the cockpit much more audible than they used to be as well as cockpit environment sounds that fit the style and nature of the aircraft itself

Noises of the flaps and gears all twisting and turning, allowing you to know when and where the aircraft is going through its operational features

New sounds revised for when the gears come down or go up, making sure you know if you are prepared to take off or land!

Rolling and rumbling throughout the cabin has been introduced to make the whole thing sound truly alive

Full 3D soundcone packages included that make sure the whole thing works together in tandem and sounds great together, moving the sound to the appropriate point as you fly
Everything included in here is to make a sound related to the massive turbofan CF6 engine kept within this aircraft. Powering a huge range of different airliners, these massive engines were one of the first of their kind available and were widely used within the Airbus aircraft – this replicates its distinctive, rumbling noise just about perfectly
Submit a review of this product
Customers Also Purchased