This addon is compatible with
Microsoft Flight Simulator X
. It should also work with
Microsoft Flight Simulator X: Steam Edition
. Some developers have explicitly stated compatibilty with Steam Edition but others haven't. Check the product description below for guaranteed compatibility. Just because it doesn't mention it, this does not mean it will not work with the
Steam Edition
.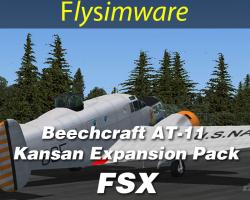 Media Format

Immediate Download

Compatibility

Microsoft Flight Simulator X inc. Steam Edition & PREPAR3D with Flysimware Beech 18 Package

File size

25.2 MB
Important: This product is an expansion of the Flysimware Beech 18 package. You must have that product installed before you install this package. You can purchase it here.
Bombing and gunnery trainer for USAAF derived from AT-7. Fuselage had small circular cabin windows, bombardier position in nose, and bomb bay; Gunnery trainers were also fitted with two or three .30 caliber machine guns. Early models, (the first 150 built), had a single .30 AN-M2 in a Beechcraft-manufactured top turret, Later models utilized a Crocker Wheeler twin .30 caliber top turret. A bottom tunnel gun was used for tail gunner training. 1,582 built for USAAF orders, with 24 ordered by Netherlands repossessed by USAAF and used by the Royal Netherlands Military Flying School at Jackson, Mississippi.
Our AT-11 model is an expansion pack for our Beech 18 X package. Highly detailed parts, many bonus animations, over 6 different lighting effects, animated practice bombs and many more features.
Features
Real world high quality 3D gauges
Bones animation
High quality textures (Bump / World Reflections / Skin Mesh)
Over 150 custom xml gauges
Flysimware's virtual cockpit sound module adds over 15 bonus sounds
Speed controlled sounds for windows, doors and heater vents
Dual analog clock (Tracks flight time)
Transponder squawk codes to Vatsim and Gamespy
Retractable left & right landing light
Over stress sounds
Dummy primer system
GPS (GNS530)
Transponder (GTX330)
HSI (NSD360A)
Norden Bombsight (Axis fuctions work)
Animated practice bombs
Animations
Yoke & Linkage ...................... VC - Exterior
Pedals & Linkage .................... VC - Exterior
Pilots............................... NO - Exterior
Doors ............................... VC - Exterior
Switches, Levers and Gauges ......... VC - Exterior
Bonus Animation...................... VC - Exterior
Sounds
Default Grumman_Goose_G21A Sounds
Bonus custom sound module includes over 15 bonus sounds
Variations
8-11 seater - Beechcraft AT-11 Kansan
Paint Themes
Navy - 805
Netherlands - N6251C
Submit a review of this product
Customers Also Purchased