XB-70 Valkyrie for FSX/FS2004

2 reviews

This addon is compatible with
Microsoft Flight Simulator X
. It should also work with
Microsoft Flight Simulator X: Steam Edition
. Some developers have explicitly stated compatibilty with Steam Edition but others haven't. Check the product description below for guaranteed compatibility. Just because it doesn't mention it, this does not mean it will not work with the
Steam Edition
.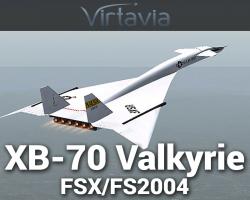 XB-70A-1 Valkyrie
A technological tour de force of epic proportions, the legend of the XB-70 Valkyrie very nearly surpasses the performance of this extraordinary aircraft. Built in the 1960s as a result of a USAF proposal for a supersonic bomber with high subsonic cruising speed and supersonic dash capabilities, the massive XB-70 was to have carried the same bombload as the B-52 Stratofortress at a higher supersonic speed than the Air Force's current strategic bomber, the B-58 Hustler. A later requirement specified that the plane be able to fly the entire mission at Mach 3.0 or greater, with a range of up to 10,500 miles and a maximum gross weight of 490,000 pounds. In the event, technology quickly relegated the Valkyrie to the role of supersonic research testbed and flagship of the USAF's public relations fleet. Ground-to-air missiles and advanced radar made the XB-70's supersonic mission impossible. The bomb bay of the aircraft was instead packed with data acquisition equipment.

FS2004 and FSX only

Features
full native FSX model included with all FSX features (bump mapping, self-shadowing, bloom etc)
high quality exterior model with detailed textures
large set of custom XB-70 gauges in 2D panel and virtual cockpit
highly authentic flight model with carefully illustrated checklist
animated folding wingtips
animated afterburner petals
authentic gear retraction sequence
automatic (on throttle) staged animated afterburner visual effect with corresponding performance boost
simulated XB-70 soundset included
pilots togglable
automatic smoke trail, wing surface vapour flash and canard tip vortices effects
source texture files included as optional download for repainters
v-c rain effects (FS9 only)
Customer Reviews
Rated 5.0/5.0 based on 2 customer reviews
11/06/2015

5

/

5

The name of the Valkyrie alone had me interested but having never heard of it before I was not really sure what to expect – the whole idea of using something like this, though, was really quite interesting to me. I started messing around with this package for a few hours and soon found that it was really simple to mess around but wasn't really suited for my actual flight style; it was just a bit too fast for me.

However, the actual design and the model itself look excellent and gave me a real appreciation of the style of the real model.

What really held me back in many aspects, though, was the fact that this Valkyrie model came with a bit of a challenge inside it that made it quite hard to get used to in the way it flew in comparison to your modern, civilian aircraft. Whilst I would not expect it to be the same it felt like a whole new system in itself which in general made it a bit too hard to get into the mood for flying around with properly, at least for me.

I do know, though, that many people will fall deeply in love with this model once they get to grips with the way that it flies – I'm just a bit too pedestrian for it haha! A very interesting form of design in general, though. It seemed to be a lot of fun to mess around with, but definitely suits others.
10/14/2020

5

/

5

Verified Purchase

I have flown this model on a couple occasions and it has good flight dynamics. I am a little perplexed at how the flaps work for the sim its a bit unconventional. Takes a little getting used to but once you do its a very fast aircraft to fly. The A.I. will not turn at all or follow a flight plan but that might just need a little tweeking on the Aircraft.CFG file.

Over all its a Beautiful Model and the flight Dynamics are wonderful.
Submit a review of this product
Customers Also Purchased