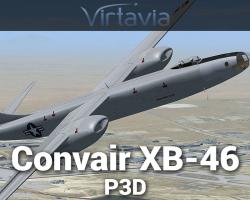 Media Format

Immediate Download

Compatibility

Prepar3D v4

File size

89 MB
For the 1944 jet bomber competition Consolidate Vultee (which became Convair) offered their model 109, which featured four Allison J-35-A-3 jet engines slung under the long straight wings in two large pods. Designated the XB-46, the first and only aircraft built made its maiden flight on 2 April, 1947. On a flight to Wright Field the XB-46 averaged 533 mph. Top speed was 548 mph at 15,000ft. The XB-46 could cruise at 439 mph with a service ceiling of 40,000ft.

The aircraft was capable of carrying 4280 gallons of fuel and estimated range would have been 2870 nautical miles with an 8000lb bomb load. The XB-46 carried a crew of three, a pilot, co-pilot and bombardier. One of the more unusual features of the XB-46 was its pneumatic system which ran the undercarriage, bomb bay, crew doors, and brakes. No production orders were ever issued for the XB-46 as the Air Force deemed the type obsolete with the advent of the Boeing XB-47.

Features
Very high quality interior (cockpit) and exterior models.
Cockpit features authentic representations of both pilot and copilot stations.
One bare-metal effect 4096-pixel livery.
Animated flaps, spoilerons, crew hatch, bomb doors, engine vents and crew figures.
Togglable bombs in bomb bay.
Automatic engine smoke effect.
Custom engine start-up smoke effect.
Togglable realistic crew figures.
Illustrated user manual in PDF format.
Jet engine soundset.
PhotoShop paintkit files provided.
Note - NO 2D panel is provided.
Submit a review of this product