This addon is compatible with
Microsoft Flight Simulator X
. It should also work with
Microsoft Flight Simulator X: Steam Edition
. Some developers have explicitly stated compatibilty with Steam Edition but others haven't. Check the product description below for guaranteed compatibility. Just because it doesn't mention it, this does not mean it will not work with the
Steam Edition
.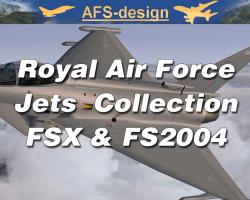 Media Format

Immediate Download

Compatibility

Microsoft Flight Simulator X & 2004

File size

42 MB
The modern Royal Air Force has come a long way from the Spitfires and Hurricanes of the World War II era. Today's RAF operates the most up-to-date aircraft available, as displayed through Royal Air Force Jets for FSX and FS2004, a software add-on from AFS-Design.
There are two different aircraft available in this add on – the Panavia Tornado, a twin-engine fighter-bomber and the Eurofighter Typhoon multi-role fighter. You can select from four different RAF squadrons – 3, 11, 17 and 29 – and choose a variety of different color schemes including the famous Desert Storm camouflage design.
Each aircraft comes complete with a fully interactive 3D virtual cockpit. Every switch and control is movable, and you can use the control stick, HUD display, rudder pedals – even the ejection seat is fully operational in these models. You can even choose the two-seat trainer model in both aircraft and view the action from both the pilot and the trainer's seats at your option.
Every feature you'd find in the real Tornado and Typhoon is here, from the mounting ladder to various weapon loadouts. Both planes offer full interactive wingmen, engine sounds and other systems, with realistic sound effects as each one goes into action. The canopy opens and closes, tailhook extends and retracts and the swept wing feature of the Tornado is fully operational.
Fly realistic search and strike missions over your choice of landscapes, limited only by the terrain packages you have installed on your copy of Flight Simulator. In between flights, learn more about both aircraft through fully-detailed cutaways and a comprehensive manual.
Adding Royal Air Force Jets for FSX and FS2004 from AFS-Design to your system will allow you to enjoy a uniquely immersive experience with these top-line aircraft, and gain further appreciation for the brave pilots who fly and fight them.
Manufacturers Description
AFS-design brings a excellent package of "Royal Airforce Jets" and contains the following models:
Repaints Royal Air Force - Eurofighter Typhoon:
RAF United Kingdom 3.Sqn
RAF United Kingdom 11.Sqn
RAF United Kingdom 17.Sqn
RAF United Kingdom 29.Sqn
Repaints Royal Air Force - Panavia Tornado:
British RAF GR.4 ( incl. "Operation Desert Storm" liveries )
British RAF F.3 ( with with longer radome )
Full 3D virtual cockpit - Tornado und Eurofighter:
Increased resolution and new 3D elements
All switches and controls are shown in 3D
New 3D e.g. details MFDs, HUD display, Pedall, leg room, ejection seat, control stick
Extensive overviews - Tornado und Eurofighter:
Interactive virtual cockpit (3D) with three different views
1. view of the pilot of the single-seat version - Eurofighter
2. view of the pilot from the two-seater version - Tornado und Eurofighter
3. view of the instructor from the two-seater version - Tornado und Eurofighter
Airplanes:
Interactive fly wingmans
Interactive engine - new sound effects
Individual adjustment of external loads and animations
Paintings with real acting dirt and scuff marks
Detailed descriptions of cutaways
Procedure - Display management - Eurofighter:
MAN truck with tow bar - Enable / Disable
Ladder - Enable / Disable
Parabrake - Enable / Disable
Wingman - Enable / Disable
Radom - Open / Close
External load screen - Eurofighter, to select the following suspensions
Meteor
IRIS-T
TAURUS KEPD 350
Paveway III
AGM-65 Maverick
MBDA ALARM
A 27 mm Mauser BK-27 cannon with 150 rounds of ammunition
As well as additional tanks at three stations, each with 1,000 liters of fuel
Other Product - Features
Animations: tail hook, parabrake, air refueling pipe, chassis, canoby, ladder, radom, MAN truck
Lights: formation, strobe, beacon, navigation and landing
Engine control switch: 2 starters, 2 fuel closed switches, masterswitch, electricalswitch
Effects: afterburner, cockpit lighting, reflective surfaces, mirrors
Swing wings Tornado
Cockpit control panel and virtual cockpit in the pilot and flight instructor
Input of all dial-up access, as frequencies, transponder code, or left on automatic pilot dials in number field
HUD display (front panel display) with different display options depending on the flight situation
HUD displays e.g. Ladder, compass, mach, TAS, wind direction, wind speed, climb performance, VOR NDB NDB
MFD displays: SCAN (AI traffic radar), FUEL, ENGine, HYDraulics, FREQenzen, MAP with zoom + / -
STOR for individual selection of weapons and external fuel tanks
Procedure to the individual on or off by: wingman, Radom, Director, MAN - truck with tow bar
HSI display: for instrument flying with 2 VOR, ADF and DMS 2, OMI Lights
Submit a review of this product
Customers Also Purchased