This addon is compatible with
Microsoft Flight Simulator X
. It should also work with
Microsoft Flight Simulator X: Steam Edition
. Some developers have explicitly stated compatibilty with Steam Edition but others haven't. Check the product description below for guaranteed compatibility. Just because it doesn't mention it, this does not mean it will not work with the
Steam Edition
.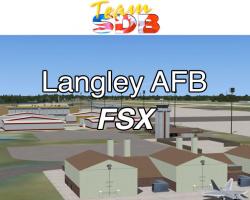 Media Format

Immediate Download

Compatibility

Microsoft Flight Simulator X inc. Steam Edition

File size

26 MB
In this package, you will receive access to a total remake of the famous Langley AFB in Virginia. As one of the most important air force bases within the US hierarchy, this takes precedence for many flight simulation fans in terms of places to visit. As well as its military important today, it's the oldest active Air Force base on the planet. It's a vital part of both the Air Force and the local Hampton Roads area, providing a massively important local landmark. Now, this landmark and base has been actively transformed and made to look just as it should have in the first place.
Established after the United States entered in the First World War in 1917 – one or thirty-two Air Service camps – Langley AFB has gone on to establish itself as a key player within the US military and indeed global aviation. It was actually named after Samuel Langley, a pioneer within aerodynamics and also a former Secretary of the Smithsonian Institute. It was Langley who formed the first basis for practical aviation, and was also the creator of the very first steam plane, and gasoline plane which carried people in 1896 and 1903 respectively.
The Langley base was created to service as a place of aerial power, and quickly grew and developed from its humble beginnings to the massive and incredibly important airbase that it is today. The creation was decided as there had to be a conventional location that the Army and Navy could converge at. It was then developed to include the newly formed Air Force, as Langley worked tirelessly to create his next image. Although Langley died in 1906, he was a key part of the development and growth of what has become a truly iconic part of US aviation, as well as an air base which has gone down in legend.
In the modern era, though, the air base has been used as the headquarters for the Air Combat Command, a key part of the USAF. By providing a large selection of aircraft for both scouting and combat, this is a significant part of the US military today thanks to the massive storage of high-end fighters and ammunition which exist here.
The base itself has gone through significant changes in recent years, though, thanks to natural disasters within the area. Two hurricanes have caused flooding and storm damage in 2003 and 2009 respectively, which as cost the airport something close to $200m to repair across both incidents.
However, as a significant part of the US aviation powers, it's always been repaired and managed again to get back into the very best of shape. For anyone who wants to see what the air base would look like if you were to fly over it today, then this is the perfect representation of this brilliant air base.
Today, it is home to several flight units – the USAF's 633D Air Base Wing, 1st Fighter Wing and 480th Intelligence Surveillance and Reconnaissance Wing, giving it excellent versatility.
What's Included?
In this package, you'll receive access to a massive array of new scenery packages created to give you a full example of what the Langley AFB in Virginia should look like. Many air bases are minimally designed and managed in FSX, and this can lead to a lack of realism throughout the landscape. With the help of this modification, though, these problems become a thing of the past as every building and section is re-designed and managed to provide proper high definition textures.
This attention to detail and close understanding of the features within the real Langley AFB make this stand out more than ever, creating a truly high-end design that catches the eye and includes every building. The base itself is well-known for its important within the USAF operations and command, and therefore plays an integral role within military flight across Virginia and the whole US.
Each building is created to accurate scale and size, with textures made from scratch to capture every last detail possible on every hanger and building within the area. Likewise, runways and various other key features are included to bring the entire scenery package together in unison. This creates a picturesque design of the real thing, so any military base enthusiasts – or indeed staff – can get something akin to the real thing.
Many of the aircraft that have used this airfield in the past are included, too, with the likes of the F-22A Raptor (the current aircraft most commonly used here) flying around and being placed stationary within the airbase. This adds that extra layer of realism and atmosphere that's desperately needed.
Key Features
Navigational aids have been included, with ILS and DME both added in to give you an easy way to get to and from the airbase using accurate navigation instead of just hoping that you can come across it on your flights!

Runways and taxiways are added in and mapped perfectly, ensuring that it all looks just as it should and also helping to capture the ease of which you can get to and from the runways in this popular airbase

Night lighting has also been included to massively increase visibility along the way, making it easier to take off and land

Buildings such as large aircraft hangers and navigation towers are included to make sure you have the full look and feel of a real air base in front of you – this captures all of the most minor details to really capture the style of this aircraft facility perfectly

Large floodlights that come on at night to further help navigation to and from the airport

AI aircraft populate the aircraft, ensuring that the place looks nice and full. This adds another layer of atmosphere and realism to an already bustling air base, making it feel just like the real thing
Notes
Please note that all AI aircraft are not accessible or flyable within this package
AI may not be compatible with the DirectX10 Preview
Submit a review of this product
Customers Also Purchased