This addon is compatible with
Microsoft Flight Simulator X
. It should also work with
Microsoft Flight Simulator X: Steam Edition
. Some developers have explicitly stated compatibilty with Steam Edition but others haven't. Check the product description below for guaranteed compatibility. Just because it doesn't mention it, this does not mean it will not work with the
Steam Edition
.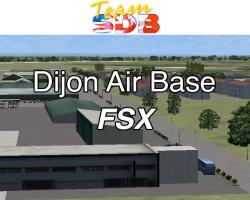 Media Format

Immediate Download

Compatibility

Microsoft Flight Simulator X inc. Steam Edition & Prepar3D

File size

17 MB
The Dijon Air Base itself is, without a doubt, one of the most important within the French military. Having served a significant role within various French military operations over the years, it's become a prime part of their overall system and style and brings more than a century and history and culture to the table with it. The air base was first opened in 1914 and since then it's been involved in so many different conflicts and events, you probably wouldn't believe it!
With more than a century of history being held at this base, it's served as both a civilian and a commercial depot as well as being a key role for military usage. For the French and the Allies, it served as a key part of the Second World War and was used quite regularly by the French prior to German occupation during the Second World War. During this time, the air base was badly damaged and was in need of significant and costly repairs – it was damaged by the Allies trying to force a way through and to provide the French with a chance to receive a key structure back from Germany.
However, the extensive levels of damage made it an unfeasible project – aware of its strategic importance, though, the US agreed to foot the bill. They repaired the air base completely and improved it, making it a premium part of the French Air Force once again and also serving as the home for several forms of USAAF jets to fly from. It served as the HQ for the likes of the 42D Bombardment Group in the late 1944-1945 era, as well as combat squadrons of aircraft protecting them on their bombing runs.
On the 1st July 1945, it was returned into the hands of the French government and it was put into a state of full restoration and repair afterward. After much hard work and development transforming it from a military zone into a more civilian based air base, the Dijon Air Base opened its gates once more and switched on the lights to the runways.
To this day, it's still being used by various companies and also works as a front-line base for NATO operations whenever necessary. In the 21st Century, though, it has lost a lot of importance to the French Air Force as they have heavily re-structured. Whatever the future for this air base, though, it's been seen as a key part of the development and growth of the French aviation program at one stage and also acted as a key part of the shift within the Allied battle against the Axis during the Second World War's conclusion.
What's Changed?
This package has been built around delivering a system that looks fantastic and performs even steadier – it's got a high level of detail in all of the scenery that has been included. By capturing the style of the air base perfectly, you can enjoy the detail without the stuttering performance

High FPS counts to ensure that you don't need to take the graphical improvements without the staggering dips in quality throughout the process, too. This makes life much easier in general for those who are using mid-level PCs but also want to improve the graphical threshold of FSX

AI Aircraft are added in now to fly around the place and make it look as alive and realistic as it possibly can without constraining performance. in this, you'll have three squadrons of Mirage 2000 moving around the skies and landing on a regular basis

Likewise, you'll get to see a variety of Transalls all parked around the air base with both military and civilian traffic landing on a regular basis, as well as departing at the same tie. This extra atmosphere adds a much needed bit of life and vibrancy to the whole occasion

The centerpiece of the air base is a monument to the great, Capitaine Georges Guynemer, LÈgion d'Honneur, Croix de Guerre, MÈdaille Militaire and a hero of the French people, which actually lights up at night for a nice little bit of class being added to the overall airport when you fly over at nighttime!

For FS9 users only, you also get access to the user-included flights – this will help you hear base activities coming from the pan
Key Features
A wide array of excellent runways has been added in to fit in with the real-life equivalent of this air base. This makes it very easy for you to get used to where you are going as it matches the real thing to perfection

Taxiways added in for simple traffic and to give the whole air base a bit more of a feeling of the scale and size that an air base such as this would be made up from

Night lighting to improve vision along the way and make sure that everyone is getting the kind of vision that they need to safely take off or land from this air base

A huge range of buildings have been added, too, including things like aircraft hangers and other technical buildings to make sure the whole place fits together perfectly and looks just as it should. A massive attention to detail has been paid with each and every aircraft that has been included within this package

Accommodation areas are added, too, as many of the staff that works here also live here – this makes it easier to see just why the Dijon air base is so vast compared to many of its contemporaries!

Floodlights are added to give you even more visibility as you take off or descend down from the skies to the aircraft, increasing the amount of vision that you will have along the way

Navigation aids that include ILS and DME to help you navigate the aircraft as best as you can from A to B, ensuring that you don't need to get lost along the way trying to get to this air base
Submit a review of this product