This addon is compatible with
Microsoft Flight Simulator X
. It should also work with
Microsoft Flight Simulator X: Steam Edition
. Some developers have explicitly stated compatibilty with Steam Edition but others haven't. Check the product description below for guaranteed compatibility. Just because it doesn't mention it, this does not mean it will not work with the
Steam Edition
.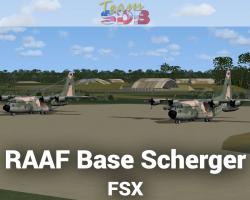 Media Format

Immediate Download

Compatibility

Microsoft Flight Simulator X inc. Steam Edition

File size

20 MB
RAAF Base Scherger (ICAO: YBSG) is the newest of the Royal Australian Air Force's three 'bare bases', completing a chain of bases across Australia's 'Top End'. Located 26 kilometers (16 miles) east of Weipa on the western side of Cape York Peninsula in Queensland. The base -- named in honor of Air Chief Marshal Sir Frederick Scherger, who served in the Top End region during World War II -- was opened on 5 August 1998.
As a 'bare base' Scherger's role is to provide the RAAF and other services with the necessary infrastructure to be activated with little or no notice as staging platforms for air attacks against an invading force.
The base has facilities for 400 personnel in fixed accommodations, 1,000 personnel in tents and about 40 aircraft. It is normally only manned by four Air Force personnel who are responsible for caretaker duties. During peacetime RAAF Base Scherger hosts, on average, one major exercise per year in which the base is fully activated through the arrival of RAAF units based elsewhere in Australia.
RAAF Base Scherger is a 13,000 acre air force bare base. It has a 10,000 foot runway, and minimal permanent facilities capable of expansion for exercises and operations. It is a planned forward operating base for F-35 joint strike fighters.
In October 2010, the Scherger Immigration Detention Centre was opened at Scherger providing accommodation for 300 single adult males. The facility was closed in 2014.
The Team SDB version of Scherger depicts a pre-2000 ìwhat ifî scenario with British Aerospace TSR2 aircraft that might have been in use had the program and contract gone through.
The scenery consists of:
Full complement of hangars and support buildings
Operational night lighting
AI TSR2, C-130, Mirage IIIO, and Twin Otter aircraft
AI aircraft painted to represent assigned aircraft
Departing and arriving AI aircraft all through the day
The static aircraft and AI densities are scalable to suit most systems.
Note: The AI aircraft are not "flyable" and along with the static models may not be compatible with DX10
System Requirements:
Windows XP w/SP2, Windows Vista, Windows 7, or Windows 8
Microsoft Flight Simulator X - Acceleration
Microsoft Flight Simulator X Gold
Dovetail Games FSX-SE
CPU 2.4Ghz or better
2Gb RAM Minimum
512 MB DX9 or DX10 Graphics Card or better
20MB for download, 120MB for installation
DX9 compatible but NOT guaranteed compatible with DX10 Preview
Submit a review of this product