This addon is compatible with
Microsoft Flight Simulator X
. It should also work with
Microsoft Flight Simulator X: Steam Edition
. Some developers have explicitly stated compatibilty with Steam Edition but others haven't. Check the product description below for guaranteed compatibility. Just because it doesn't mention it, this does not mean it will not work with the
Steam Edition
.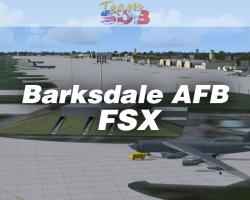 Media Format

Immediate Download

Compatibility

Microsoft Flight Simulator X inc. Steam Edition & Prepar3D

File size

100 MB
It always helps, when using any flight simulator, to have realism on your side. With the help of this mod you can turn the popular Barksdale Air Force Base into something completely different from what you may have known previously.
This AFB, home to the 2nd Bomb Wing – the oldest Bomb Wing in the US Air Force – is a critical part of US strategy and with this mod you can finally make it look as realistic as it should. The 2nd Bomb Wing who operate out from here are typically part of the Mighty Eight Air Force, part of the 2nd World War bomb squads.
The squad itself who reside here use various B-52H Stratofortress bombers alongside bombers from the 11th Bomber Squadron. All of this action and interest inside the air base has finally been captured and translated, made to look the very best that it can.
With such attention to realism throughout, you can get a genuine appreciation of what it must be like for pilots to be fighting out of such an interesting venue.
Major Improvements
A completely changed and improved aerial view ground polygon count to make the airport look as realistic as it can.

Seasonally changing textures have been added in, too, giving the airport some much needed improvement on the realism side of things. Helps to sell the whole look and feel of the air base, making sure it looks different whether you fly here in May or October.

Operational, fully effective night lighting. If you are arriving here in the little hours then this can be hugely useful, helping you see yourself around the skies and land without any danger.

New, custom-built hangers are being used alongside fresh support buildings that do everything they can to capture the overall look and feel of the airport in the right way.

Weapons storage areas and tech sites are added in, too, which is just another part of how realistic this whole air base looks when everything is sitting together.

Navigational aids such as VOR, NDB and ILS have been included to help you find the air bae with the minimum of fuss along the way!

Makes use of some freshly designed B-52H Stratofortress bombers, designed by the brilliant David Bushell. David also worked on static Boeing KC-135 Stratotankers.

Also backed up by static Fairchild Republic A-10 Thunderbolt IIs, which add even more realism and enjoyment to the airport. Helps to blend it all together with the use of both C-130 and C-21 Learjet models visiting the air base on a periodic timetable.

You'll see B-52H aircraft arrive and depart as the day goes on, adding even more to how realistic the whole place can look and making sure you feel right at home watching everyone depart into the skies.

Worried about performance? Then you can use the static aircraft and AI density modifier to make sure there is more or less, depending on how well your system can handle the volume of aircraft appearing.
Submit a review of this product
Customers Also Purchased