This addon is compatible with
Microsoft Flight Simulator X
. It should also work with
Microsoft Flight Simulator X: Steam Edition
. Some developers have explicitly stated compatibilty with Steam Edition but others haven't. Check the product description below for guaranteed compatibility. Just because it doesn't mention it, this does not mean it will not work with the
Steam Edition
.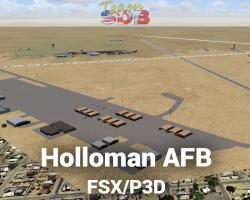 Media Format

Immediate Download

Compatibility

Microsoft Flight Simulator X inc. Steam Edition & Prepar3D (not v4)

File size

25 MB
Holloman Air Force Base is a sorely missed piece of military expansion. This small base might not hold a huge great, but it's still nice to come across. Whether it's for a more creative kind of military role-play experience or simply for completion, this add-on is great to have.
Help to complete a larger amount of military bases in your flight simulation experience with the assistance of this add-on. It helps to add a much-needed level of realism into the desert. The lack of military AFB without the right amount of detail is quite frustrating for some pilots. If you would like to have more options, then this is a good place to start.
This small base out in Otero County, New Mexico, is well worth your time adding to your simulation experience. Given the barren nature of the land around this area, it can be good to have something to arrive at without flying for too long. Named in honor of Colonel George V. Holloman, this air base is worth having for reasons of respect, if nothing else.
Speaking of respect, all purchases of this AFB will see some revenues donated towards Help for Heroes. Help for Heroes is a UK-based charity, that helps veterans and those who fought in wars for Britain receive treatment and help.
Key Features
A full rebuild of the air base to try and capture as close a look to the real thing as is possible.
Fully detailed additions of all support buildings and hangers help to add life to the AFB.
Operational new lighting at night lighting will help to aid arrival here during the evening.
Navigational aids are included, too.
German Tornados, F16-C and F16-D Falcons and USAF F-22A Raptors are under AI control.
OF-4 Phantom IIs, QF-16 Falcons, C-21A Learjet and C-130J Hercules aircraft are here, too.
AI densities are developed to scale to help adjust for the best balance in performance.
Submit a review of this product
Customers Also Purchased