F-105D Thunderchief for FSX/FS2004

1 reviews

This addon is compatible with
Microsoft Flight Simulator X
. It should also work with
Microsoft Flight Simulator X: Steam Edition
. Some developers have explicitly stated compatibilty with Steam Edition but others haven't. Check the product description below for guaranteed compatibility. Just because it doesn't mention it, this does not mean it will not work with the
Steam Edition
.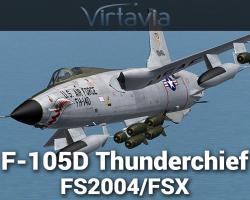 Media Format

Immediate Download

Compatibility

Microsoft Flight Simulator X & Microsoft Flight Simulator 2004

File size

44 MB
Popularly loved by the people who piloted it, this was at one stage the largest fighter on the planet and it has held several speed records at one stage in its existence. It was incredibly impressive when it was first built, with more than 600 of the Thunderchief being created over its rather short lifespan thanks to its incredible power and access to unique, modern flight avionics.
What's Included?
6 unique model variants:
'Clean'
M117 bombs on centre and wing pylons, plus aux tanks.
Mk.82 bombs on centre and wing pylons, plus aux tanks.
'Post mission' - as Mk.82 but empty TER and pylons.
AGM75 Shrikes (2), plus aux tanks.
'Long range' - centreline fuel tank, plus aux tanks.
4 texture sets;
"OldCrow II", 355TFW, Takhi RTAFB Clean configuration
"MyKarma", 419 TFW, 466th TFS, AFRES, Clean configuration
23rd TFS, 36th TFW, Bitburg AFB, Germany 1965, Clean configuration
562 TFS, 23 TFW, McConnell AFB (Takhi RTAFB, Thailand) 1965
Key Features
The authenticity and the range of detail put into more or less every part of this design ensures that you are left with an aircraft that operates and runs the way that we all would have dreamed of in the past. With highly authentic flight models that come with a proper checklist inside, you can be sure that you are flying something truly awesome. The detail in the checklists ensure that you are flying something genuine and something authentic, giving you all the help that you need when you need to get used to the general feel

To help you make sure you never need to fall behind or not be able to get used to the design, you can use the massively impressive fact that this aircraft has been testd and authenticated by real-life F-105D pilot. This lets you know that it definitely flies as it should, with every calibration and adjustment being made according to the requests of the pilot. This makes it the most effective part of the market these days as it comes with the genuine seal of approval of a real pilot who has previously flown this aircraft as part of their career

This is completely compatible with all forms of FSX, whether it's SP1, SP2 or the Acceleration package. Designed to give you the maximum output regardless of what method of the simulator that you are using to try and get there in the first place, always balancing out performance qualities

The design of the model itself is some of the most impressive shaping and styling you are likely to come across for both FS2004 and FSX. The design makes the most of us things like bloom effects, bump mapping and self-shadowing to draw the whole image together in genuine harmony

This comes with a customized speedbrake animation, ensuring that the whole thing can be used for both in-flight, AB-on and even wheels-down conditions. This ensures that you can get total control of the aircraft regardless of what you are dealing with and what you are intending to take on in future

With an animated drag chute that is activated just by pressing the thrust key, you get all the help that you need in making sure that you have access to all of the features needed to fly an aircraft in the right manner, regardless of what you are doing

This comes with a lower speedbrake hydraulic "droop" that comes on when you are shutting down the aircraft. This obvious looks quite unique and can be a nice little addition to those who are not used to this kind of aircraft being sat in front of them as you fly

The virtual cockpit has been worked on relentlessly to make sure it carries the depth and the detail that you would have been hoping for along the way. This makes it much easier to keep controlling and managing the aircraft as you fly. However, the virtual cockpit has been improved even further by the addition of the night illumination when you are using it in FSX. This not only looks great but it makes it much easier to see when you are flying during the night, giving you an increased level of vision and ensuring you can always fly properly

An animated re-fueling probe that flies around with both external and internal sockets being modelled. I you need to re-fuel then you can use this for ease of use rather than trying to rely on doing this on your own or having to try and see the flight out normally!

Wingtip vortices, afterburner flames, engine slow and turbine glowing effects are being added in that make a massive difference to the entire presentation and style. When put together and when managed in the right way you will soon notice just how easy it is to start preparing your aircraft effectively

Highly-detailed and designed textures that need to be managed and updates are very important, with "weathering" taking places that makes it feel as if you aren't flying around in an out the box every time that you fire up this aircraft. Subtle reflectivity added for another nice layer of quality

Comes with a simulated F-105D soundset to ensure the aircraft can carry the boom and the sound that you were hoping for, improving the general level of enjoyment that you can get out of the aircraft as well as helping you really get to grips with how the aircraft sounds

Authentic virtual cockpit included with animations and mousable controls making it incredibly easy to manage and control

Realistic all-XML 2D panels that look awesome and make it nice and simple to get access to what you need when you are flying around thanks to the customized pop-up designs for things like using the autopilot, the electrics and even the radio

On/off pilot model designed to give your aircraft something a bit more impressive to look at when you are flying around in the cockpit

V-C rain effects that look awesome when you are flying around in FS9, rain hitting the screen!
Customer Reviews
Rated 4.0/5.0 based on 1 customer reviews
09/06/2019

4

/

5

Verified Purchase

A nice plane however somewhat outdated if compared with the planes which are available today. A lot of switches/knobs are non-functional. It looks like an upgraded FS2004 version for FSX. But it is a Thunderchief.
Submit a review of this product
Customers Also Purchased