This addon is compatible with
Microsoft Flight Simulator X
. It should also work with
Microsoft Flight Simulator X: Steam Edition
. Some developers have explicitly stated compatibilty with Steam Edition but others haven't. Check the product description below for guaranteed compatibility. Just because it doesn't mention it, this does not mean it will not work with the
Steam Edition
.
Sound Pack Compatibility Note: This sound pack will work with any aircraft model, both freeware or payware in FSX and P3D.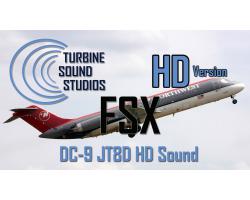 Media Format

Immediate Download

Compatibility

Microsoft Flight Simulator X inc. Steam Edition and Prepar3D (all versions including v4)

File size

70 MB
Designed as a full remake of the brilliant Pratt & Whitney JT8D engine, this will give you the ability to finally see why this engine has been used so commonly across aviation in recent years. A deeply powerful engine that is capable of delivering fantastic power – and raucous noise – this sound package by Turbine Sound Studios will ensure you are left with an easy to manage and simplistic system that sounds great and looks even better.
Inside this package, you will receive access to a range of products created to fit with the Douglas DC-9. The sounds have been grabbed by a real-life DC-9 flight as well as a MD-80 aircraft, with flights flying from various parts of the world to ensure the sounds are as varied and as realistic as they possibly can be.
Everything has been compiled, improved and optimized to fit up with the required audio quality. Each sound included has been made sure that it fits with the stringent expectations and requirements of a flight simulator so that you can install it and get flying within a matter of moments!
The DC-9
The aircraft itself was put together using the twin-engine, single-aisle jet style that has become so popular over the years. First released in 1982, the aircraft has then gone on to become a hugely powerful and popular part of modern aviation.
Now, you can try out the DC-9 and make sure it sounds just as you would have hoped for. The entire system is easy to enjoy and to get involved with, as it makes it nice and simple to enjoy the turbofan sounds created by this package.
Throughout this grouping, various adjustments and changes are made to ensure it fits with the format and the style you would have been hoping for. This ensures you will have no problems at all in keeping yourself in check as you fly, given that each part of the aircraft emits specific noises which have been optimized toe nurse they fit with the actions you have requested.
This makes a massive difference, as well, to the overall functionality of the aircraft. When you know what sounds are being created by which actions it becomes much easier to plan around this and make sure you are flying the aircraft properly!
The JT8D
In this package, you gain access to the sounds created for this low-bypass turbofan engine. It was introduced to be used with the Boeing 727 and since then has become really quiet iconic across the 50+ years of usage it has seen.
With the dual-spool design and the coaxially mounted rotating assemblies, at one stage this was seen as a bit of a pioneer for engines of this kind and became a staple over the years. The JT8D grouping has become famous over the years, with various additions being included over the years to make the "family" of engines up to eight. This allows for different styles, thrusts and power levels depending on the aircrafts own needs.
Submit a review of this product
Customers Also Purchased