This addon is compatible with
Microsoft Flight Simulator X
. It should also work with
Microsoft Flight Simulator X: Steam Edition
. Some developers have explicitly stated compatibilty with Steam Edition but others haven't. Check the product description below for guaranteed compatibility. Just because it doesn't mention it, this does not mean it will not work with the
Steam Edition
.
Sound Pack Compatibility Note: This sound pack will work with any aircraft model, both freeware or payware in FSX and P3D.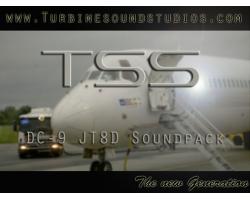 Media Format

Immediate Download

Compatibility

Microsoft Flight Simulator X inc. Steam Edition and Prepar3D (all versions including v4)

File size

57 MB
Should you like to fly aircraft like the DC-9, then you might find the sound quality a touch lacking. This is true for both FS2004, FSX and P3D. This add-on from Turbine Sound Studios, though, does a good job of correcting that problem. The DC-9, for example, is one hell of a loud of aircraft. That's not very well managed in the simulators so far, so this add-on helps to add that missing boom and thrust from the engine.
Not only does this vastly help to make the whole experience feel more welcoming, but its more immersive. That classic whine heard from the engine as it screeches into action is one thing; the rich roar of the aircraft is even more noticeable. Not only that, but you will find that this helps you to really control that noise if you find it's a little too much!
The aim, though is to simply capture the sound and the precision of the real thing here. based on the DC-9 project that began way back in April 1963, this add-on really captures that old-school sound effect. The classic boom of the old Pratt & Whitney JT8D Turbofan engines is captured with immense precision. As is the high-efficiency wings and the T-tail, helping to really capture the sound they make as they catch in the elements.
For years, this long-lasting aircraft has been undervalued in flight simulation. This soundpack helps to add some of the much-needed and valuable sounds which we expect to hear from the cockpit. Better ambiance and more natural reactions due to the sound accuracy make just two of the key reasons why a flight at the cockpit of the JT8D makes such perfect sense.
Key Features
Highly impressive HD sounds based on the famous P&W JT8D engine. Captures the realism of the aviation experience perfectly.
Shows off the true power of this twin-engine aircraft. Contextual sounds play, with that customary boom provided to the aircraft for that added immersion and sound.
All sounds are captured from the real aircraft, fully mastered and re-optimized to help make sure they meet the various FSX and P3D sound specs.
Sounds taken from various DC-9 and MD-80 aircraft to help get the different sounds just right, adding variance to the kind of sounds produced.
Every sound is made to help match up with the ambiance of the cockpit that you would get from the real thing.
Educate yourself and become a better pilot using this add-on, as the contextual sounds make it easy for you to learn when – and where – to react purely on audio.
Submit a review of this product