Airbus A220 Series Pack for FSX/P3D

5 reviews

This addon is compatible with
Microsoft Flight Simulator X
. It should also work with
Microsoft Flight Simulator X: Steam Edition
. Some developers have explicitly stated compatibilty with Steam Edition but others haven't. Check the product description below for guaranteed compatibility. Just because it doesn't mention it, this does not mean it will not work with the
Steam Edition
.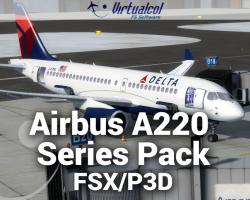 Media Format

Immediate Download

Compatibility

Microsoft Flight Simulator X inc. Steam Edition & Prepar3D (including v4)

File size

150 MB
We are proud to present the new product AIRBUS A220 SERIES. Continuing with our development line "Friendly Frames" and "Low Cost", it is a product full compatible with FSX, FSX STEAM, PREPAR3D 1, 2, 3 and 4.
The product contains:
2 models, A220-100 and A220-300
6 repaints:

A220-100 Swiss
A220-100 Delta Airlines
A220-300 Air Baltic
A220-300 Air Canada
A220-300 Air Tanzania
A220-300 JetBlue
A220-300 Korean Airlines
A220-300 Swiss

Virtual Cockpit full operating
2D panel with expandable screens
Paintkit with PDF Instruction
Original Sound
The product has been developed for use with home simulator and Flight Simmer user, IT IS NOT A REAL TRAINING MODEL NOR HAS IT BEEN DEVELOPED FOR SUCH END, it is only a recreation of the original model with adjustments to the use of the user´s personal simulator.
Customer Reviews
Rated 4.2/5.0 based on 5 customer reviews
04/14/2019

4

/

5

Virtualcol. They bring us everything. Atr, Dash 8, CRJs. And even though I use X Plane, I think these are realistic for the money. Because they are not maximum realism and Aerosoft level realistic, but youíre only paying £18 for a Bom... Ahem airbus A220, which not only is the only availible for FSX, but it is not available for X Plane. Which is why I bought it.

The exterior is just like the CS... Ahem A220 and has the signature big engines. But I donít spend my life looking at the exterior, which an FSX Player would do if they bought X Plane, because I am interested in the cockpit.

I mean, pilots fly from the cockpit, not the tail which is why I donít really care about the liveries, which is good because there are only 6 repaints for the -300 and 2 for the -100

The cockpit is great. Nice place to be. I like the glass cockpit and it is pleasant. The CS Ahem A220ís cockpit is well modelled and has good textures, and it is easy to understand, like an airbus should be.

X Plane is still better
05/14/2019

4

/

5

Verified Purchase

A unique flying experience! I enjoy most parts of the aircraft; it's sounds (immense), flying dynamics, and autopilot. The overhead panel contains HD knobs and switches (imo. not sure if this is factual). I flew a simple flight yesterday as my first run and everything was clean, and a joy to fly. Also, this is an outstanding model considering how recent the real life A220 is. Highly recommended!
07/14/2019

5

/

5

Verified Purchase

Completely satisfied with the service over the many years I have used this web site. Viritualcol always are on the cutting edge. Looking forward to ordering more products as they come on line. As a former airline employee with flying in the Arctic in bus operations and finally with SAS and DC8 they 10"s keeps me in the game.
06/18/2019

5

/

5

Verified Purchase

Youíre getting top quality at a moderate price. So far, it all works. Not so for some of the other companies. Nothing I have to complain about.
04/30/2019

3

/

5

Verified Purchase

It is an nice aircraft to fly :) I love to fly with it :)
Submit a review of this product
Customers Also Purchased