This addon is compatible with
Microsoft Flight Simulator X
. It should also work with
Microsoft Flight Simulator X: Steam Edition
. Some developers have explicitly stated compatibilty with Steam Edition but others haven't. Check the product description below for guaranteed compatibility. Just because it doesn't mention it, this does not mean it will not work with the
Steam Edition
.
Sound Pack Compatibility Note: This sound pack will work with any aircraft model, both freeware or payware in FSX and P3D.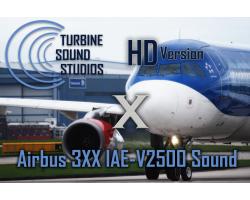 Media Format

Immediate Download

Compatibility

Microsoft Flight Simulator X inc. Steam Edition and Prepar3D (all versions including v4)

File size

80.5 MB
Created by the awesome Turbine Sound Studios, this package uniquely and accurately recreates the sounds of the Airbus 3XX range of aircraft.
With the IAE V25000 engine being replicated in this fashion you should have no problems buying into the deep and engaging sounds of the aircraft, ensuring that you can now fly this aircraft without having any reservations about the sounds you are hearing.
Now, what you hear is what is happening – every sound is related to what the aircraft is actually going through at that point in time, improving your overall enjoyment and scenario within the aircraft.
This extra depth and improvement within the package ensures that you are going to have access to package which;
Provides you with HD external and internal engine sounds, worked on for hours to ensure they come out in the most authentic manner and deliver a truly enjoyable service that cannot be beaten.

New sounds for startups and shutdowns are now sounded out in the right way, ensuring that you have no problems in putting together the right kind of performance and can grow to understand how your aircraft should sound when you first take off.

This little addition can make a massive difference to your overall enjoyment and comprehension of how flying with this aircraft should sound, and this is included within the new sound cones that have been created. The sound cones make sure that the sounds only come from the parts of the aircraft they should, removing the generic nature of previous designs across the board.

Customized rumbling and flapping sounds, ensuring that you have no problem in staying in the right direction and always developing, changing and improving your overall comprehension of what problems may exist with your aircraft.

Sounds to indicate when you disengage autopilot, helping you understand what the aircraft is doing.
The engines used in this kind of package come under the banner of International Aero Engines, some of the most impressive of their kind out there – a group of four aero-engine manufacturers which were formed in 1983 to produce engines that include giant names like Pratt & Whitney, Rolls-Royce, MTU and Japanese Aero Engines.
All of these engines make it easy for people to get the top kind of engine they want, and this with this sound pack you'll find that your IAE engines will sound just perfect. This video really does all that it can to make sure you are left with a deep sound that captures reality perfectly when you fly an aircraft like this.
The sounds are captured from the real thing and are delivered in an HD optimized format to make sure you have no problems in staying on the right track. Thanks to the additions of the engine changes and the new sounds, you'll have no problem in mastering the aircraft as all of those weird sounds and suspicious noises can be accounted for.
The new addition of these professional HD sounds will ensure you can fly with total peace and freedom instead of having to worry about what the sounds may mean. Remove the generic sounds of old and make them far more sophisticated and specific.
Submit a review of this product
Customers Also Purchased