This addon is compatible with
Microsoft Flight Simulator X
. It should also work with
Microsoft Flight Simulator X: Steam Edition
. Some developers have explicitly stated compatibilty with Steam Edition but others haven't. Check the product description below for guaranteed compatibility. Just because it doesn't mention it, this does not mean it will not work with the
Steam Edition
.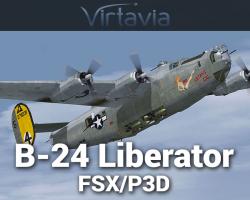 Media Format

Immediate Download

Compatibility

Microsoft Flight Simulator X inc. Steam Edition & Prepar3D v3, v4, v5

File size

435 MB
As one of the most popular aircraft of its era, the Consolidated B-24 Liberator played a transformative role in modern aviation. This US heavy bomber first arrived in 1939 and was a major precursor to the advanced and rapid development of aviation standards during the Second World War.
With this aircraft, you can get to enjoy what was once the height of modernity. Itís a highly efficient aircraft, using the high aspect ratio Davis wing to make sure it flies with a very particular style.
It was known for its high speed even at cruising ratio, and its ability to carry large payloads over a long-range distance. Itís part of what makes the Consolidated B-24 Liberator such a fun aircraft to fly: it can take in huge distances without feeling sluggish or slow.
This aircraft played a major role in creating an Allied victory in the Second World War. Used by the Allied air forces and navies, it took part in every theatre of battle during the war. It was also a key part of the Western European bombing runs which helped to turn the tide of war and ensure an Allied victory was possible.
Indeed, it even played a key role in the major bombing runs that took part in Japan. By the end of the Second World War, the Consolidated B-24 Liberator was beginning to become quite outdated thanks to new aviation developments.
However, it was down to the studious work on the B-24 which ensured such developments were even possible. For aviation fans and historians, hopping into the cockpit of an aircraft which paved the way for so much will be hugely enjoyable.
Whatís New?
Highly impressive adjustments to the aircraft set-up, delivering one model and one livery.
Native FSX/P3D model used, with all manner of adjustments and improvements to the model, with new bump mapping, self-shadowing, and bloom features.
Immersive 2048 x 2048 pixel textures which provide maximum attention to detail within FSX: Steam Edition.
Add bombs as you choose, with the use of the Visual Load Editor included allowing you to add and remove any extras you wish.
The All-XML 2D panel includes high-resolution glazed effect gauges, custom pop-up functions for autopilot control and also new electrical and fuel systems.
Many new mouse clickable options exist, making it very easy for you to stay in control of key information when you are in the cockpit.
New and improved start-up engine effects and other new animations help to further improve realism.
The unique checklist included helping make sure you can start up your aircraft and take-off without any issues.
Fresh new bespoke sounds created by Turbine Sound Studios to make sure that the aircraft makes the right noises at the right moments.
Whatís Included?
Alongside everything above, you also get access to a very useful pair of PDF manuals. These will help you to make sure you can fully understand what you are doing, spelling out the use and function of every feature in the cockpit.
Six new liveries which include:
B-24D, 'Hellsadroppin II', 41-23809, 329th BS/93 BG
B-24G, 'The Stork', 42-7687, 726th BS/451 BG
B-24D, 'Strawberry Bitch', 42-72843, 512th BS/376 BG
B-24J, 'Cocktail Hour', 44-40428, 64th BS/43 BG
C-87, B-24D Transport version
C-109, B-24J Transport version
Submit a review of this product
Customers Also Purchased