This addon is compatible with
Microsoft Flight Simulator X
. It should also work with
Microsoft Flight Simulator X: Steam Edition
. Some developers have explicitly stated compatibilty with Steam Edition but others haven't. Check the product description below for guaranteed compatibility. Just because it doesn't mention it, this does not mean it will not work with the
Steam Edition
.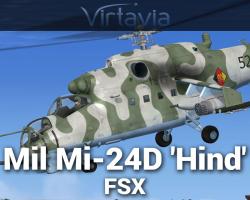 Media Format

Immediate Download

Compatibility

Microsoft Flight Simulator X

File size

124 MB
As one of the most comprehensive attack helicopters ever put together, the Hind D carries a fearsome reputation across the globe for its incredible power and precision. Capable of ripping through even the most challenging and delicate of locations, the Hind D offers a fixed level of power and strength that can be quite hard to compete with for your average vehicle – in terms of raw output in firepower, too, very few objects can come close.
Although it was released in 1972, the Hind today still stands up to the test and would be a formidable opponent for everything but the most modern of aircraft. It's powerful style and brutish nature in the skies has led to many other Hind D-brand aircraft being formed, offering the unique power and challenge many would have expected from such a monstrously powerful piece of art.
This recreation captures each detail with the most pinpoint accuracy and detail imaginable, giving FSX fans a chance to fly a true piece of artisan workmanship.
Key Features
A hugely detailed remake of the native FSX model has been included. This has been edited and refined time and time again to make sure it carries all of the correct styles and hallmarks of the real thing. Designed to really capture that precision and unique detail

Likewise, the cockpit has gone through a similar recreation. The detail in everything from the textures themselves to the way that everything has been laid out and placed within the aircraft is magnificent, capturing the deep level of rendering that has been included throughout to the highest level of detail

Included in this package are three unique texture sets, each of which are based on its real-life equivalents and therefore making sure that it carries all the true hallmarks and forms of the real thing as closely and as realistically as it possibly can across the board, bringing things together in the most delicate manner. Also includes a fantastically arranged set of weapons loadouts that will give you a real appreciation for the depth of firepower that an aircraft like the Hind was capable of carrying, with every loadout that has been included being based on a real-life weapons loadout

The textures included are detailed using awesome 2048-pixel bump and spec mapping. This brings the unique shine and style to the textures, which is something that every good aircraft needs to bring them together and to make the whole thing come to life, shining and reflecting the light incredibly authentically

Additionally, the cockpit has been loaded up with brilliant 'Real Gauge' 3D instruments. These gauges look absolutely sublime and do everything that is needed to really harness and strengthen the power of the instruments and the gauges inside the cockpit, making the entire flight experience feel so much more realistic

Windscreen wipers included to make sure the aircraft feels like it has some genuine life and vitality about it, as well as ensuring that the visibility you have when flying is always going to be the best that it possibly can be. Additionally, ventilation fans are added for extra effect

4 x opening hatches are added on so that the aircraft has all of the relevant additions that it would have had in the real world. Helicopters are harder to get out from than your typical aircraft, so these opening hatches make it nice and easy for snap exists, if required

Customized start-up smoke effects are added in here which truly do look outstanding, giving you the kind of detail and precision that you need to take the job that extra stage further – built to add another layer of realism and to make the whole thing stand out when taking off

Animated pilot figures are included in the cockpit, so that you have that extra sense of realism and so that the entire flight experience will feel as realistic as it possibly can. The whole thing will blend together here in the most elegant fashion possible, creating a unique and engaging format and design that really does seal it all together – these pilots are deeply detailed and wear the correct kind of uniforms, as well, which is obviously very important to creating the right kind of feeling and effect!

The undercarriage of the Hind has been taking care of with due accuracy and care, with both the retraction sequence and the undercarriage dealt with and taken care of in the most sublime fashion possible – it really does look the part, and does a wonderful job of selling the aircrafts maneuverability and its overall agility when making changes with genuine realism

High-quality sound sets are made up so that you can get to hear the Hind boom and roar into action, giving you a true appreciation for just how deep and aggressive this aircraft is. The engine shouts and balls as you take off, creating the right kind of atmosphere for flying something so ferocious and powerful

Not sure what to do when you are flying around? Then you'll love the inclusion of the illustrated user manual. These awesome PDF pages will help you get to grips with the Hind with minimal fuss, ensuring that you can easily understand all of the little tips and tricks that you need to put into action to fly something as challenging as this properly. The detail and hard work put into the PDF should minimize any chances of you making mistakes as you fly, bringing the whole thing together expertly and with specific detail

Do you fancy yourself as a bit of an artist? Then why not create your own liveries? A Photoshop compatible paint kit will be provided that goes as high as 4096 pixels, meaning that you can create absolutely breathtaking liveries with just a few hours messing around and precision changes – it all looks brilliant when finished, and carries everything that you need

Note: Please be aware that there are NO 2D panels included in this thanks to the addition of the Real Gauge technology, whilst it's also important to note that not every switch and knob included can be used
Submit a review of this product
Customers Also Purchased