Using Instrument Approach Charts Tutorial Video

2 reviews
Was: $14.41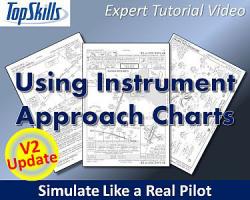 Media Format

Immediate Download

Compatibility

Stand Alone (Video file)

File size

116 MB

Video Length

19:30 Minutes
New 2020 Edition (v2)
Appearances, audios, and pacing have been sharpened. Some new information has been added, and other information has been clarified. These changes improve the self-learning features of these popular tutorials and manuals from TopSkills.
Created by the excellent Bill Stack, one of the most reputed and well-respected names within the aviation community, this latest product by Top Skills can be the perfect solution to learning, improving, and magnifying your progress as a pilot. Thanks to the information taught in these videos, you can start to improve massively as a pilot and ensure that those rookie mistakes and basic errors of the past can become just that – the past.
What's it for?
The package itself has been designed to ensure that those who wish to master using Instrument Approach Charts (IACs) can do so. As a challenging yet crucial part of the process, these charts can provide you with the depth and the detail that you need to really understand what you are doing when you are at the helm of the craft. The whole project included in here will look in-depth at various factors such as;
The usage and the reason behind these IACs
The strengths and limitations of the feature, ensuring you know exactly what you have in your control
Get to grips with instrument approach charts from the real world to really enhance the realism of your flight
Mastering how to read and use these features along the way to make sure you are always in control
This entire package has been designed and improved by a team of experts who know exactly what they are doing, and what has to be done, when flying using IACs. This has been created by a group of expert pilots who know their stuff, and who understand the importance of using professional aviation guides such as this to help stay on track and to always make flying as safe as it possibly can be.
Indeed, the various flight planning exercises laid out in here have been created by real-life professional pilots who understand the importance of using these kinds of features when flying. If you want to learn about the most important aspects of using IACs then you should use this guide, and make it your reference point for any simulation fan who wishes to improve.
Made For Those Who Listen
In this package, you should find it easy to learn from the professionals – every single aspect of the importance of using IACs has been clear in these videos. The video explains how the important data that you need to utilize with IACs has been delivered to your cockpit. This makes it much easier for you to start controlling the aircraft and making sure that you are in control and in charge throughout.
If you aren't sure where to begin with this situation, then you can use this video to help master the location of vital features such has headings, altitudes, fixes, navaids and various other features along the way. The best place to be when you are learning is with this video as it clearly prompts every part of the IAC to you.
This means that you can easily learn how to use vital features such as ILS, GPS, VOR, DME, NDB and even STAR procedures. These are absolutely vital to the safe running and management of your simulated aircraft, whilst making sure you can use some of the most advanced features available.
By doing this, you get to grips with system features such as localizers, glide slopes, step-downs, DME arcs, procedure turns, missed approaches and so much more. By having all of this at the tip of your fingers, you can easily take things that extra step further whilst seeing things improve.
Everything that you will learn here is vital to the safe and smooth running of an aircraft, regardless of how miniscule it may appear or seem. If you want to be on top when you are in the sky then you need to learn about all of these features, and everything is explained in here.
Accepting Limitations
However, one problem many pilots have is they don't realize that there are seriously imitations to what you can learn with this video. For a start, as noted above, this is only for simulation purposes and should never be used to help you plan for flying an aircraft in real-life. You will be provided with access to detailed information about the published instrument approaches out there and how you can make the most of them, but if you wish to learn about important situations such as instrument flight rulings of flight instruments in general then you will need to look at other Top Skills videos.
This concentrates on explaining the published instrument approaches out there whilst also ensuring that you get used to managing standard instrument approach charts for future usage when you are flying. Getting to grips with this will be a vital part of your general flight education.
Amplifying Strengths
However, thanks to the information held within this video, you should have no problem getting used to the way that flights work. This video includes;
25 minutes, 47 seconds of detailed information and advice on the best way to fly your aircraft and how to manage its various instrument plans

208MB of data and information spread across a video file which has crystal clear audio installed. This makes it nice and simple to hear the audio and to make sure that you fully understand what is being said to you during the videos, ensuring that you come away with all the information that you need.

This is guaranteed thanks to the addition of the animated highlights for key concepts, and ensuring that you can easily get to grips with the way that audio tends to come across alongside video. With clear instructions and detailed images, you should have no problem getting to grips with this video package.

Separate screens are included for every step of the way so that you no longer have to fall behind when you are trying to keep up pace with the video; learn at your own pace and ensure that you understand everything before you move on to the next screen.

Succinct explanations are added in so that you never need to lose interest or fail to understand what is being explained. This is the most challenging part of the whole process, ensuring that you can get the help that you need in capturing that information for good.

Need help getting used to the way to fly? Then use the excellent approach charts included within this to really get to grips with what you should be doing. Added on top of the professional script and narration, and you should have no problem understanding the suggestion.
Getting Used To Realistic Simulation
This package has been made for those who want to learn how to fly in simulators as realistically as they can, and this includes using vital features such as these IACs to get used to how you should be flying. You'll learn how to read the information on your charts with ease and how to easily decipher what is being explained to you throughout. Likewise you will be given the information needed to actually execute actions in the same way that a real-life professional IFR pilot would be – this is very important, and is made a key part of the video throughout.
Likewise, you'll learn how to use the instructions to make a detailed and thorough approach to using these features, maximizing your chance of taking things that extra step further. By using these modern approach types you reduce the chances that you have of making mistakes, getting lost, or misunderstanding data that has been relayed to you.
Throughout this video, then, you should have no problems getting used to the demands of modern aviation so that you can start to plan, build and prepare yourself for a more effective and enjoyable future when you are trying to use advanced features such as IACs.
How Can This Be Watched?
Using this video is very easy – thanks to its straightforward, no-nonsense approach you can remove the challenges in place to make sure you can stay on track at all times. It's designed in a manner so that both veterans and newbies can learn from it, giving you valuable detail and insight into how you can manage yourself moving forward and how you can keep yourself on the right track.
This package is free to use with most common video players, including;
Windows Media Player
QuickTime
RealPlayer
Winamp
Now, you can improve on the go!
Everything included within this package is relevant to flight simulation in general, not just one simulator. Indeed, everything that you learn in here can easily be put into practice if you were to use it with home flight simulators such as;
Microsoft Flight Simulator
X-plane
Prepar3D
FlightGear
Note
This package has been made for use only with home simulation programs. Therefore, it cannot be used in any way as a guide for professional aviation.
Customer Reviews
Rated 4.5/5.0 based on 2 customer reviews
01/03/2020

4

/

5

Verified Purchase

very glad to have found this software A lot of care and attention has gone into the design and construction of this video, in an effort to make it ideal for self learning. Each topic has its own distinct section, with animations and graphics included to help present information and data clearly. An easy to read script and well spoken narration will guide you through the 26 minute video that you can pause, rewind and fast forward as and when you need to so that you won't miss anything or waste any time on topics you've already covered.

You will learn about the common types of published instrument approach charts, from Standard Terminal Arrival (STAR) to Area Navigation (RNAV), as well as the benefits of using them. Topics cover all the basic information presented in charts and the commonalities among the numerous different charts. You'll also learn how to read step-down descents, DME Arcs, holding patterns and many other details shown on these charts. On top of that, you can learn where to obtain official instrument charts for yourself.
01/10/2021

5

/

5

Verified Purchase

It's alright, it's clear and effort has been made and it shows. I think I would probably liked it to be more if it was longer and more detailed.

I think how much you get out of it depends on what you know before you buy it.
Submit a review of this product
Customers Also Purchased