Supermarine Scimitar for FSX/FS2004

1 reviews

This addon is compatible with
Microsoft Flight Simulator X
. It should also work with
Microsoft Flight Simulator X: Steam Edition
. Some developers have explicitly stated compatibilty with Steam Edition but others haven't. Check the product description below for guaranteed compatibility. Just because it doesn't mention it, this does not mean it will not work with the
Steam Edition
.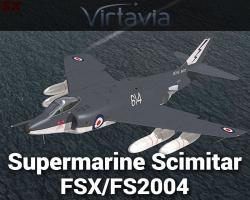 Media Format

Immediate Download

Compatibility

Microsoft Flight Simulator X & Microsoft Flight Simulator 2004

File size

33 MB
With its quirky shape and rather odd style, the Supermarine Scimitar has long been a rather peculiar choice for an aircraft both in shape and in design.
However, the reasons for its choice back in the late 1950s when it first emerged were far simpler; at a time of rapid aviation development, we witnessed incredible changes and improvements to the way and structure of how aircraft would operate. In the world of aviation, this meant that we got to witness the birth of fighters that were more than the hacked-up equivalents used in the Second World War and before.
Indeed, the Supermarine Scimitar was not only hugely effective in battle and in flight, it was an attractive aircraft to look at. It was one of the first aircraft to find a good balance between the look and the design of the aircraft as well as the performance.
Indeed, it was a massive jump forward for British Fleet aviation performance as it was the introduction to something fresh, new and exciting. Its sophisticated style and unique performance level made sure that it was going to be more than powerful enough to deal with anything that was thrown against it.
Unfortunately, the Scimitar was an aircraft which was fantastic in idea, less so in practice. It was famously challenging to fly and this made it hard for pilots with more typical training to get used to its uncompromising style. Likewise, it suffered from operational glitches which could cause more than its fair share of problems for pilots.
With the introduction of the Blackburn Buccaneer, the Supermarine Scimitar faded into obscurity and was consigned to the history books. For a short period of time, though, it was seen as the go-to option for a wide selection of pilots; now, you can use it yourself!
Whatís Included?
Inside this package, you get access to a faithful and honest remake of the original Supermarine Scimitar aircraft. Alongside getting these options, though, you will be provided with access to four awesome variations of the model to let you see just how different this aircraft was. These new models will include six texture formats, which are;
XD321 800 NAS HMS Ark Royal (clean)
XD243 803 NAS HMS Eagle (long range)
XD332 807 NAS HMS Centaur (AIM-9 AAM)
XD272 804 NAS HMS Hermes (Bullpups ASM)
XD242 803 NAS HMS Victorious (AIM-9 AAM)
XD215 764 B Flight RNAS (long range)
Main Changes
As a mod that looks to re-work and integrate nearly every feature possible into the one position, this design gives you access to a remake of the Supermarine Scimitar which so elegantly offers you a range of features which improve the realism provided here massively, including;
A fresh, new FSX model that looks wonderful and comes with all of the associated FSX graphical input features. This includes a totally fresh take on bump mapping, self-shadowing, bloom FX and so much more to help bring the aircraft to life properly. Every feature is based on the real thing.

A model which utilizes the power of self-shadowing, at the time a first for the series. This makes a massive difference to the graphical output of the simulator and also ensures that the model avoids looking flat or simplistic in its design by bringing together every little feature impeccably.

This offers more than just visuals, though! This package also introduced highly authentic virtual cockpit designs that look outstanding, providing you with fresh animations and mousable controls that work in your favor and make your life much easier than ever before. Designed to be quick and easy to use, as well.

Self-reflecting glass is used in the virtual cockpit to give you that true idea of what handling the cockpit of an aircraft like this would have been like. These minor features all add up and come together to give you something truly exemplary, building on the original design perfectly.

A stunning and authentic design which carries the right look and feel across the body of the aircraft. This model shows you detail in the weathering and wear-and-tear of the real thing, making sure you donít feel as if you are flying a model which is just ďout the boxĒ.

Improved cockpit gauge night-lighting ensures that you can stay on top of analytics and control of the aircraft as you fly thanks to the incredible attention to detail, precision and care which is included within the new lighting systems.

Awesome and hugely authentic texturing is being used throughout, making sure that you can use either a totally fresh and clean model or also a model with loaded equipment on-board. The choice is yours entirely, giving you a much better level of freedom over the options that you might decide to make the most of when setting up to fly this.

New all-XML and 2D cockpit options are included to make sure that you can get access to vital detail via pop-ups. This means that you can use features like autopilot and radio information within seconds.

Not sure what to do at any point when flying? Then use the brilliant set of checklist features to make sure you can fly the thing properly. Every suggestion that is made in the cockpit checklist is based on the real thing thanks to the real-life manual.

New effects are included to offer a fresh and clear turbine glow across three stages, as well as smoke and contrails when you pick up enough speed.

A new soundset is made from scratch to make sure that your aircraft sounds as authentic as it looks, improving realism and overall performance as now you can hear as well as see any successes Ė or failures.

An animated canopy which can be accessed in a matter of seconds using SHIFT+E. Made to ensure that you have easy access to a detailed canopy design.

Animated wing folds, tail hooks and spoilers are included for that extra attention to detail.

New rain effects are included for use with the virtual cockpit for FS9 users, adding another layer of realism which makes a huge difference.
Customer Reviews
Rated 5.0/5.0 based on 1 customer reviews
11/04/2015

5

/

5

Ahh, the Scimitar. Itís an aircraft that I know a lot about as Iíve had to talk about it before in a lecture but have never used one in a simulator before. Decided to try this model out to see what I would think. Hugely impressed with it so far, after two weeks of enjoyment!

The actual aircraft is really representative of the aircraft of its era, and this really took power and strength in an aircraft to a new level for the time. I could feel that in this model as even though it was a very old model it felt fresh, as if it had been released in the last few years. This results in a deeply exciting aircraft flight that was easy to enjoy and even simpler to remember, making it nice and easy to fly around and just take in a bit of proper aviation history.

However I do have to say that I found it quite tough to control at points, but it seems to have been fairly erratic as an aircraft was so many were destroyed accidentally. That being said, though, I found that they even captured its clumsy nature very well and this is so important to making sure the aircraft can be used and enjoyed in the right way. It comes with lots of nice little gimmicks as well like self-reflecting glass and night lighting, so overall it does the aircraft justice both in how it flies and how it feels when flying.
Submit a review of this product
Customers Also Purchased