R3Y Tradewind for FSX

1 reviews

This addon is compatible with
Microsoft Flight Simulator X
. It should also work with
Microsoft Flight Simulator X: Steam Edition
. Some developers have explicitly stated compatibilty with Steam Edition but others haven't. Check the product description below for guaranteed compatibility. Just because it doesn't mention it, this does not mean it will not work with the
Steam Edition
.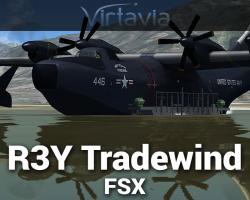 Media Format

Immediate Download

Compatibility

Microsoft Flight Simulator X

File size

160 MB
Classily design and intricate inside, the Tradewind makes the perfect ally for even the most stubborn and difficult of pilots. It was designed to provide long range reconnaissance missions but before long it was being used for high speed missions and continued to be used in various formats as a transport. Itís very effective design and the fat it was so unique looking made sure that it was a long-term part of aviation in the 50s.
The last one was scrapped in 1959, but with this mod you can get to see why this was Ė at one stage Ė a real game-changer.
Whatís Included?
In this rendition of the R3Y Tradewind, you will gain access to this aircraft in a range of designs and style that likely have never been seen before. This package manages to capture the style and format of the real model itself and really puts it to work, ensuring that those who want to fly this aircraft can get all the help that they need in seeing it look fantastic.
The various designs that are included will make up a wide range of services, with various features added along the way including liveries such as;
R3Y-1 'Indian Ocean Tradewind'
R3Y-1 'Coral Sea Tradewind'
R3Y-2 'Caribbean Sea Tradewind'
R3Y-2 'South Pacific Tradewind'
Additionally, both R3Y-1 'Cruiser' and R3Y-2 'Bowloader' variants were included. This gives you an unprecedented level of selection and choice across the board, making it easy to select an aircraft you feel love for.
Key Features
Alongside a wide range of liveries, each texture that has been included in this package has been designed with the real aim of attention to detail being put across as much as possible. By this, we mean that it comes with 2048-pixel texture sets that look outstanding along the way.

Each texture included comes to life in its own unique way with various forms of wear and tear included across the board to ensure that the model looks like it has been used, creating a far more realistic representation of this outstanding aircraft model, bringing the entire package together expertly.

This matches up with the brilliant native FSX models used throughout this, helping the whole package come to life and make sure that the quality is finely balanced throughout. This captures the real sense of style and realism that you need from this.

On top of these excellent models is the deeply realistic and detailed breaching cradle that has been included. This is just another example of the attention to details and the thoughtful nature of the design elements put in place when this was first created, offering something truly outstanding moving forward.

However, itís not just a nice model Ė it flies excellently, too. It comes with various cockpit gauges and additions to ensure that it can fly in the way that you would have intended in the first place. Add in the use of a brilliantly realistic virtual cockpit, and flying this turns into a bit of a breeze!

The model is backed up and made to look as realistic as possible by the addition of the awesome opening doors, moving and animated crew and the Bowloader nose that comes with extendable ramps. All of these little animations bring the entire craft to life, making it look truly outstanding.

Worried about running out of gas as you fly? Then you can use the awesome RY3-2 Bowloader that has been included. It even come equipped with the little animated hoses that you would love to see when filling up your aircraft, adding to the realism and enjoyment of the flight even further.

Need to have the aircraft feel as authentic as possible? The crew added into this package will do just that for you. The Togglable crew figures all come with accurate flight gear with regards to the aircraft, making the whole experience feel even more welcoming and more unique.

Do you need to make sure the cockpit is going to be spacious enough for you when flying? Then the addition of the interior spaces outside of the main hold will ensure that you never feel too crammed when you are flying this model, making it an absolute dream to fly.

Comes with a wide range of excellent viewpoints that make it simple for you to view certain parts of the flight in general, whether itís on the exterior or the interior, giving you an even better set of views to look at when you take off in the cockpit of this absolutely fantastic aircraft.

Designed to give you extreme levels of performance, and this is shown via the massively powerful contra-rotating propeller blades included on the wings, giving the aircraft that extra shove as well as ensuring that the presentation retains its massively positive levels of performance and realism.

Matched by the marvellous turbo-prop sound set that was created from scratch for use with this system, ensuring that you can get easy and effective help in hearing this aircraft come roaring to life and to give you that deep an effective sound that we all expect to hear from an aircraft upon starting up and flying Ė each sound has been faithfully taken from the real aircrafts performance.

Do you fancy yourself as a bit of an artist? Then you should try out the brilliant paint kit files provided. They are Photoshop compatible and can easily be used in any way that you wish, allowing you to more or less transform the entire thing and make it look the way that you intended Ė maybe you have your own idea for a fancy livery thatís never been taken on before!

Give yourself the help that you need with the brilliant user manual. Prepared in a PDF file for ease of viewing as well as the excellent illustrations included inside, you should have no problem taking off with this aircraft model as it removes all of the challenges associated with flight.

Note Ė no 2D panels are included with this package, only 3D excellence!
Customer Reviews
Rated 5.0/5.0 based on 1 customer reviews
11/04/2015

5

/

5

When I first seen the picture of this mod I thought it was a boat! This is one of the coolest looking aircraft Iíve come across in some time in terms of its looks and style and I really wanted to try it out, so I fired up the download after making the purchase and tried it out.

I have to admit I knew very little about the aircraft itself when I got the product so didnít really know what to expect Ė what I got was a brilliant rendition of a very interesting piece of kit.

Itís a lot of fun to fly around in and makes it nice and simple to get to grips with the rather unique nature of this kind of aircraft, and I was honestly shocked to find out came from the 1950s. Its look just makes it look as if it came around in the last decade or so and it has that really interesting style inside as well.

However you can tell itís quite old from the way that it flies Ė it has none of the true finesse of modern aircraft and this obviously takes away from the flying prowess that the aircraft is capable of producing a little bit.

That being said the overall performance and presentation is entirely true to its real-life counterpart so that is more than enough for me. The aircraft itself seems to have a bit of a reputation and when I finally flew one, I could see why.
Submit a review of this product
Customers Also Purchased