This addon is compatible with
Microsoft Flight Simulator X
. It should also work with
Microsoft Flight Simulator X: Steam Edition
. Some developers have explicitly stated compatibilty with Steam Edition but others haven't. Check the product description below for guaranteed compatibility. Just because it doesn't mention it, this does not mean it will not work with the
Steam Edition
.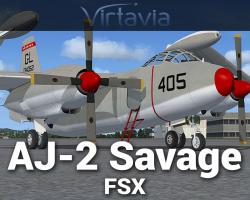 Media Format

Immediate Download

Compatibility

Microsoft Flight Simulator X

File size

54 MB
Following the end of the Second World War, military aviation went through a transformative change. One of the biggest changes came from the development of aircraft like the AJ-2 Savage.
Designed as the most modern and robust bomber aircraft of its era, it held vast potential. Capable of carrying a nuclear warhead, too, the AJ-2 Savage was more than a generic bomber aircraft.
It was a versatile attack aircraft that was capable of striking from a long-range distance. In the time that it was part of the military aviation of the US (the 1950s until the 1960s), it was a crucial part of the Cold War. Indeed, the AJ-2 Savage played a key role in helping to quell issues taking place in South Korea and beyond. Given that this was pre-all-jet aircraft, it was a very important step in the right direction.
Without the AJ-2 Savage, we might never have seen the advancements that we have in the years since. With pilots capable of flying this high-end attack bomber in FSX, you can now see what the fuss was about. Designed to be similar to the real thing in shape and in performance, this follows realistic flight dynamics.
Now, virtual pilots within FSX can use this for anything from bombing runs to reconnaissance and refuelling. As one of the most important aircraft of the 1950s, the AJ-2 Savage opened the doors for countless innovations. You can now see why, despite its aged profile today, the Savage was once widely respected among the best aircraft of its style worldwide.
Key Features
It comes with an impressive range of models, with Bomber, Tanker, and AJ-2P included.
Impressive 2048 x 2048 pixel texture sets for impressive details on all models included.
Uses bump mapping to ensure all FSX-quality models included look realistic.
Models created with the correct catapult bridle and holdback assemblies.
Animated dorsal intake, crew and bomb bay doors, tailhook, and wings/tail included.
Refuelling system included so that you can refuel your aircraft if needed.
Realistic flight crew included with the AJ-2 Savage with outfits fitting the time period.
High quality animated propeller blades with fully featherable features included.
Comes with a 3-engine prop/jet engine sound set for realistic in-flight sounds.
28-page PDF manual included with illustrations for easy understanding and flight.
Comes with editable Photoshop PSD files for creating your own bespoke liveries.
In total, users will receive three models with unique liveries included as part of the collection. Users who choose to fly the AJ-2 Savage in FSX can choose from the following liveries:
AJ-2B, VC-6, USS Yorktown, 1954
VAH-7, USS Forrestal, 1956
VAH-7, NAS Sanford, FL, 1958
VJ-62, NAS Sanford, FL, 1954
VAP-61, Guam, 1956
Submit a review of this product
Customers Also Purchased