This addon is compatible with
Microsoft Flight Simulator X
. It should also work with
Microsoft Flight Simulator X: Steam Edition
. Some developers have explicitly stated compatibilty with Steam Edition but others haven't. Check the product description below for guaranteed compatibility. Just because it doesn't mention it, this does not mean it will not work with the
Steam Edition
.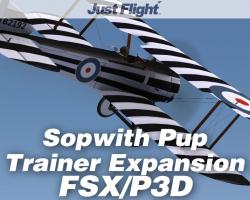 Media Format

Immediate Download

Compatibility

Microsoft Flight Simulator X & Lockheed Martin's Prepar3D and Just Flight (Rara-Avis Sim) Sopwith Pup Base Pack (available here)

File size

151 MB
With an additional seven liveries, this Trainer Expansion Pack for Just Flight's Sopwith Pup add-on, is a great way to get more out of what you've got. All of these liveries represent real life aircraft with accurate registration numbers; you can get more repaints and keep it all authentic. You will need Just Flight's original model, which is available for Flight Simulator X and Prepar3D, featuring a great 3D model and a host of exciting animations, custom sounds and effects.
In 1917, while in service at the School of Special Flying in Gosport, the Pup registered B2192 was painted with broad black stripes covering the entire body of the aircraft and RAF logos on the wings and fuselage. This bold livery was likely to indicate that. During this time, it was flown by ace pilots Capt. H. H. Balfour MC and Capt. E. L. Foot MC.
The Royal Flying Corps and the Royal Naval Air Service were eventually combined, forming the Royal Air Force. Another part of this reorganization took place in 1920, when the Central Flying School became the Flying Instructors school, tasked with continuing the work started at the School of Special Flying. Both C374 and D4077, represent aircraft of the Central Flying School from before this transition.
Built by Standard Motors in 1917, B1807 is now the only surviving Pup of the six placed on the United Kingdoms civil register. While the real life Pup is still being refurbished, with being to get it airworthy again, the livery is included in this expansion. So you don't have to wait until the restoration is finished.
The three other liveries featured in this package, namely the B4128, C215 and C242, are historically accurate, and round out the expansion with a bit more variety. The Sopwith Pup was used as a trainer because of its shallow learning curve; it seems fitting then, to add a collection of real liveries that were used when training the many pilots of the RFC and the RNAS.
You must have the Just Flight (Rara-Avis Sim) Sopwith Pup Base Pack in order to use this expansion. You can get the base pack here.
Included aircraft - Trainer versions
B2192 of the School of Special Flying at Gosport 1917
C215, No 54 (Training) Squadron, Gosport 1918
C242, No. 7 Training Squadron
C374, Central Flying School, 1918
B4128 of No 2 (Northern) Aircraft Depots, Catterick
D4077 of Central Flying School, Upavon.
GEAVX / B1807 Built by Standard Motors in 1917
Submit a review of this product
Customers Also Purchased