This addon is compatible with
Microsoft Flight Simulator X
. It should also work with
Microsoft Flight Simulator X: Steam Edition
. Some developers have explicitly stated compatibilty with Steam Edition but others haven't. Check the product description below for guaranteed compatibility. Just because it doesn't mention it, this does not mean it will not work with the
Steam Edition
.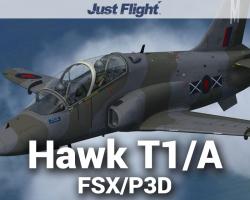 Media Format

Immediate Download

Compatibility

Microsoft Flight Simulator X inc. Steam Edition & Prepar3D (including v4)

File size

433 MB
Now re-released with full TacPack integration (FSX & P3D v1-3 only), the Hawk is no longer just a nimble training jet but a very capable weapon of war!

Note: TacPack is not included with this add-on and must be purchased separately.

This highly detailed simulation of the BAe Hawk T1 for FSX, FSX: Steam Edition and Prepar3D has been developed by Just Flight's in-house development team after hands-on research with a real-life ex-RAF and ETPS Hawk T1.

The Hawk T1 is a British-built single-engine jet trainer with a two-man tandem cockpit. First flown in 1974, the Hawk has served as an advanced training aircraft for nearly 40 years. The design has proved to be highly successful, with over 900 examples of more than 10 variants sold to air forces in 18 countries, including the UK, Finland, India, and Saudi Arabia.

The Hawk T1 variant, first delivered to the RAF in 1976, continues to serve as an advanced jet and weapons trainer. Possibly the most well-known Hawk T1s are those flown by the world famous RAF Red Arrows display team, which has been flying the Hawk T1 since 1979.

The Just Flight Hawk T1 has been modelled to an exceptional level of detail and features a variety of 4096x4096 paint schemes (including the RAF and Red Arrows), realistic payloads (including guided missiles, rockets, bombs, 30mm ADEN cannon gun pod, working external fuel tanks, reconnaissance pod and Red Arrows diesel/dye smoke pod) and ground equipment. Both the front and rear pilot positions are included and the aircraft features a truly 3D virtual cockpit with smoothly animated 3D instruments and fully functioning custom-coded systems and avionics.
MODEL

Accurately modelled Hawk T1 & T1A, built using extensive research materials and hands-on experience with the real aircraft
Numerous external animations including storage hatch, RAT, canopy, crew ladder
Animated, configurable front and rear pilots
Ground equipment including chocks, access steps, pitot cover, engine intake covers and tie-downs
4096 x 4096 textures are used to produce the highest possible texture clarity
Bump and specular mapping used throughout the aircraft to produce a truly 3D feel
3D light cone and splash for authentic night lighting
Three different coloured smoke effects included for an authentic air show experience
TacPack-compatible weaponry with the correct brackets and mounts for all weapon types:
- Aden 30mm centre line gun pod
- AIM 9M, Magic II air-to-air missiles, with CATM-9 practice missile
- CBLS/BDU-33, MK-82, MK-82SE, MK-83 and BDU-50 bombs
- Matra LRF4 and LAU-68 rocket launcher pods
Note: Weapons functionality is only available if you have installed the TacPack combat system software from Vertical Reality Simulations.


COCKPIT

A truly 3D virtual cockpit featuring accurately modelled ejector seats, cockpit wear and tear and stunning texturing - every instrument is constructed fully in 3D with smooth animations
Aircraft configuration system lets you choose between 'cold & dark' or ready for take-off
Easily modify your cockpit configuration using the in-game icon panel. Choose between weapon panels, Red Arrows smoke controls, HUD/GPS/HUD+GPS configurations, and hide the control column for an unobstructed view of the cockpit
Front and rear cockpit positions included
Every button and switch in the cockpit is accurately modelled

AIRCRAFT SYSTEMS

Gyro-controlled HSI, attitude indicator and turn indicator, modelled with accurate 'spin-up' times and simulated gyro-drift
Custom-coded electrical system with AC & DC resets and loads
Custom hydraulic systems, including RAT operation
Original AN/ARC 164 UHF radio, plus retrofitted modern AN/ARC-232 UHF/VHF unit with the ability to save and recall frequencies
TACAN and ILS radio units
Bendix King Skyforce Skymap II GPS system
Authentic HUD display
Working external fuel tanks
Custom failure control app
Configure ordnance using custom in-flight Weapon Control panel

12 LIVERIES

Hawk T1 Royal Air Force Early trainer livery, XX241
Hawk T1 Empire Test Pilots School livery, XX341
Hawk T1 Royal Air Force Valley, Central Flying Squadron, XX176
Hawk T1 Royal Air Force Camouflage scheme, XX353
Hawk T1 Royal Air Force 4 FTS, Welsh Dragon livery, XX172
RAF 19 Squadron, RAF Leeming – XX329
Hawk T1 Royal Air Force Red Arrows 2011 livery XX260
Hawk T1A Royal Air Force 100 Squadron, Black livery, XX331
Hawk Mk 51 Finnish Air Force, HW-346
Hawk Mk 53 Indonesian Air Force, LL-5320
Hawk Mk 63 Royal Saudi Air Force, 79034
Hawk Mk 63 Swiss Air Force, U-1252T1

OTHER FEATURES

Realistic and accurate flight dynamics based on real-world performance and handling data, and input from Hawk pilots
Authentic sound sets for both engine variants, developed by Military Sound Studios (M.S.S.) - upgraded in this latest TacPack edition!
Custom sounds for switches, doors, gear warnings and more
Submit a review of this product
Customers Also Purchased