This addon is compatible with
Microsoft Flight Simulator X
. It should also work with
Microsoft Flight Simulator X: Steam Edition
. Some developers have explicitly stated compatibilty with Steam Edition but others haven't. Check the product description below for guaranteed compatibility. Just because it doesn't mention it, this does not mean it will not work with the
Steam Edition
.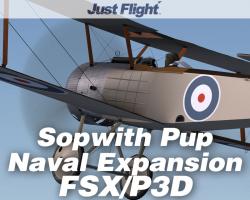 Media Format

Immediate Download

Compatibility

Microsoft Flight Simulator X & Lockheed Martin's Prepar3D and Just Flight (Rara-Avis Sim) Sopwith Pup Base Pack (available here)

File size

107 MB
This is the fantastic Naval Expansion Pack for Just Flight's great Sopwith Pup add-on, compatible with Flight Simulator X and Prepar3D. The original add-on provides a stunning model of the classic Sopwith Pup, featuring custom sounds and animations, as well as Lewis machine guns and Le Prieur rockets. Just Flight's Naval Expansion adds five historical Naval liveries to expand you collection further and make your Pup even more comprehensive.
In 1917, Commander Edwin Harris Dunning became the first person ever to land an airplane on a moving ship. While performing trials flying his Sopwith Pup, registered as N6453, he touched down clean onto the HMS Furious. Days later he completed another successful landing but unfortunately, his third attempt resulted in his death. This livery represents the aircraft and the brave pilot, that fearlessly achieved this amazing world first.
A replica of the Pup N5192 can be seen at the Historic Aircraft Restoration Museum. The original was lost on in December of 1916. While being flown by Flight Sub-Lieutenant Stanley Valentine Trapp of the 22nd Wing, Royal Flying Corps, N5192's wings broke up during target practice due to a major structural failure, causing the loss of both pilot and aircraft.
Nicknamed "Julia", N6442 was assigned to the Anti-Gotha Walmer Defense Flight, flown by a Flight Sub Lieutenant with the initials J.A. The Pup registered N5186, had a very successful career with the Royal Naval Air Service. It was a member of the 8th Squadron to Dunkirk, moving later to the 3rd before finally crashing while with the 4th squadron. Finally, N9917 represents a Pup that has been rebuilt since it's service on the HMS Manxman, and is currently part of the Suhttleworth Collection.
This small collection of liveries carries with it a great deal of history and memories that should not be forgotten; they represent what the Sopwith Pup was capable of, as well as the dedicated service of their respective pilots.
You must have the Just Flight (Rara-Avis Sim) Sopwith Pup Base Pack in order to use this expansion. You can get the base pack here.
Included aircraft - Naval versions
N6442 "Julia", Beardmore built 9901a Type, Walmer Defence Flt., FSLt. J.A. Shaw, June 1917
N5192, Flown by Flight Sub-Lieutenant Stanley Valentine Trapp, 22nd Wing, Royal Flying Corps.
N5186, RNAS Design Flight, Eastchurch, Sheppey Island.
N6453, RNAS HMS Furious 1917 pilot Sq. Cmr. Edwin Harris Dunning.
N9917 RNAS HMS Manxman, number carried by rebuilt Pup in Shuttleworth Collection
Submit a review of this product
Customers Also Purchased