Piper PA-28-181 Archer II for FSX/P3D

2 reviews


This addon is compatible with
Microsoft Flight Simulator X
. It should also work with
Microsoft Flight Simulator X: Steam Edition
. Some developers have explicitly stated compatibilty with Steam Edition but others haven't. Check the product description below for guaranteed compatibility. Just because it doesn't mention it, this does not mean it will not work with the
Steam Edition
.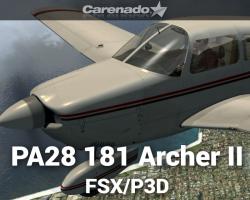 Media Format

Immediate Download

Compatibility

Microsoft Flight Simulator X inc. Steam Edition and Prepar3D v2, v3, v4, v5*

File size

68 MB
*Fully compatible with P3Dv5 however please follow the installation instructions here.
Released now for FSX is this stunning Piper PA-28-181 Archer II add-on from Carenado. Again, Carenado have released a full featured, highly detailed aircraft with no lack in features and functionality. This aircraft features an amazing 3D virtual cockpit, which is fully interactive. An amazing 8 paints have been included with different configurations. The aircraft also features an advanced GPS system. Animations are enabled on many external features including ailerons, elevators, rudder, flaps, trim tab, rotating wheels and many more.
This file released by the software development company Carenado, a company well known for creating high-quality computer aircraft identical to the real plane. This Piper plane features an unbelievably detailed three-dimensional cockpit view which is 100 percent interactive.
The animations on the outside of the aircraft are impeccable and parts including the elevators, rudder, flaps, trim tabs, ailerons and wheels all move. The doors, co-pilot seat, sun visor, and antenna are animated as well.
These high-quality software graphics are what Carenado does so well, and it shows on this Piper. Glimmering nightlights and light effects on the aircraft's gauges make for a fantastically realistic cockpit view from inside the plane. The cockpit can also be viewed from outside the aircraft thanks to this plane's completely transparent windows.
The most astounding thing about this aircraft is the eight different paint configurations that you can apply to the airplane body. Not just 8 different colors, but different stripes, spats and decals as well. This Piper plane isn't just all about the fantastic looks either. This plane behaves incredibly realistically when compared to the actual Piper Archer II, and the weight and balance are dead on.
All of these components combined make for an incredible Flight Simulator X experience. The visuals are highly detailed and concise which provide a stunning graphical experience, paired with great gameplay to give you the best aviation experience you can possibly get by sitting on the couch.
Manufacturers Description
Features
Interactive virtual cockpit
Full moving parts: Ailerons, elevators, rudders, flaps, rolling wheels and trim tab
Animated sections such as: doors, sun visor, copilot seat and vibrating antenna
Lights: Navigation lights, beacons, landing lights
Transparent windows
3D modeled pilot and cockpit area
Many details as: pitot, antennas, chocks, pitot cover, baggage area
Custom VC panel and gauges
This model doesn't have a 2D panel
Realistic light effects on gauges
Nightlight effects on panel
Built-in zoom gauges
Separate switches for instruments lights and dome light
Toggle yoke at VC
Full checklist and reference text about the procedures
Realistic performance
Real behavior compared to the real airplane
Real weight and balance
Pilot, copilot and passenger views
Liveries Included
White - with three wheel spats
White, red and brown - with no wheel spats
White, red and brown - with 3 wheel spats
White, green and grey - with 3 wheel spats
White, green and grey - with no wheel spats
White, gold and blue - with 2 main wheel spats and no nose wheel spat
White, gold and blue - with 3 wheel spats
White and metallic blue - with 3 wheel spats
Custom Panel and Virtual 3D cockpit
High quality virtual cockpit
Separate switches for instrument lights and dome light
GPS 295 installed in the cockpit
Built-in Zoom gauges
Realistic light effects on gauges
Night light effects on panel
Yokes can be shown/hidden by mouse click
Pilot, co-pilot and passenger views
Animations
Ailerons, elevators, rudder, flaps, trim tab, rotating wheels, doors, sun visors, vibrating radio antenna.
Review
"Shadows and nightlight effects on the aircraft and panel are very realistic, and very well done. As you turn the aircraft, shadows will shine across your panel, and at night the light will reflect as well. The night textures are very well done, the gauges look great both in the daytime and at night with the lights on. The package does come with a very well done set of checklists which come straight out of a POH out of the real aircraft that you can hit every single step with." - SimReviewsGA
Customer Reviews
Rated 4.5/5.0 based on 2 customer reviews
12/12/2018

5

/

5

Verified Purchase

Very realistic. Flies pretty much like the real thing - which I have flown a few times - mostly fly my Cessna 150. The perspective in the VC is very comfortable. Throttle response and flap reaction on landing is close to real - good for landing practice.
12/21/2017

4

/

5

Verified Purchase

Another nice plane but it would be better if it had the autopilot feature.
Submit a review of this product
Customers Also Purchased