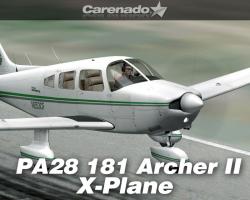 Media Format

Immediate Download

Compatibility

X-Plane 10.40 or higher

File size

111 MB
Now version 3.2.
The Carenado Piper PA28 181 Archer II for X-Plane boasts many great features for simulation. Highlights of the Carenado Piper include all moving parts, high quality audio, realistic cockpit effects, and so much more to make flying this plane as real as it gets.
The pilot of this plane can also customize the paint schemes and choose from two different models to suit his or her interests. Both the interior and exterior of the plane have a great attention to detail- in the daylight, reflections from lights and glass in the cockpit make you really feel like you are in the hot seat. At night, taxi, head, and taillights all mimic the real Piper PA28 181 Archer II in enabling the pilot and plane to easily find their way to the given destination.
Shadows on the plane were created with high detail and creativity in mind during sunrise, sunset, and throughout the rest of the day to give the pilot a more realistic feel while flying. Not only do the graphics look great, but the lighting on the interior and exterior of the plane give the pilot an extra sense of time until sunrise/sunset before he or she needs to turn on or off airplane beacons.
Not only do you get all of these great features in one package, the plane comes complete with normal and emergency procedures in a printable PDF document, allowing you to simulate these procedures to be prepared for a real emergency in reality. The dash of this plane is truly flawless- featuring everything found in a real Piper.
Features include working altimeter, clock, fuel gauge, radio, pitch, yaw, landing gear, and so much more. Doors, sun visor, and copilot seat also fully work in game simulation.
Once again, on the exterior of the plane, all ailerons, elevators, rudders, flaps, and rolling wheels are fully animated to make the flight experience even better and more realistic.
Manufacturers Description
Features
Polygon optimized model.
Original HQ digital stereo sounds (22.05 KHz) recorded from the original aircraft
IFR certification
Interactive virtual cockpit
Full moving parts: Ailerons, elevators, rudders, flaps, rolling wheels
Animated sections such as: doors, sun visor and copilot seat
Realistic lights: Navigation lights, beacons, landing lights.
Realistic light effects on gauges
3D modeled pilot and cockpit area.
Many details as: pitot, antennas, chocks, pitot cover, baggage area.
Realistic textures and original paint designs.
Realistic light effects on gauges.
Similar behavior compared to the real airplane
Real weight and balance.
Separate switches for instruments lights and dome light
Toggle yoke at VC
Nightlight effects on panel
Included in the package
4 paint schemes
1 Blank texture
2 models: with and without fairings
Normal and Emergency Procedures PDF
Reference document
Customer Reviews
Rated 3.3/5.0 based on 3 customer reviews
01/23/2015

5

/

5

If you're looking for a great looking light aircraft to add to your X-Plane hangar, then consider this Piper PA-28 by Carenado. Carenado have a knack for creating stunning aircraft models that handle as well as they look, and this one is no exception. It's available as an immediate download, so you don't even have to wait for a CD to arrive in the mail.

All the Carenado hallmarks are here. A polygon optimized model is fleshed out with beautiful textures and dazzling lighting effects. The lighting effects and special attention paid to the textures stand out even more, because the Piper PA-28 is an all-metal aircraft. The shines and reflections on the surface of the aircraft really make it feel tangible, and they make for some really amazing screen shots. I'm also a fan of the low wing design, which looks really good when the sun is low in the sky.

You actually get two models with this add-on, one with fairings and one without, as well as four different liveries in a range of colors, three of which utilize a sleek pinstripe design. You also get a blank texture, allowing you to create you own custom liveries. So aesthetically, you get a lot of variety with this aircraft.

A wide range of animations, moving parts and other details help to make the aircraft feel even more realistic, and make your flights even more enjoyable, especially if you're using an external view where they can be really appreciated. If you're using the interactive virtual cockpit, it's all about the lighting effects on the panel. They look fantastic, and turn the 3D modeled cockpit area into a truly atmospheric space. From the pilots seat, the performance of the Piper PA-28 can be best felt, with a good weight and balance and authentic flight characteristics. Rounding out the aircraft, is the high quality stereo sounds that have been recorded from the real aircraft, and work to bring the performance and the visuals together into a cohesive and believable model.

The included .PDF's that cover normal and emergency procedures, are really useful and very easy to print out and have as a reference. So even if you haven't flown a Piper PA-28 before, the checklists and reference provided will help you get started with this great model from Carenado.
04/08/2018

2

/

5

Verified Purchase

If you have Xplane11.1 don't bother with this. I have been to the Carenado Support page and followed their advice regsarding Plug in Admin, downloading and installing Microsoft Visual C++ Redistributables and checked the file name for non-alphanumeric characters and all to no avail. Still no sound and distorted pilot's view point. In short, Carenado don't seem to have checked that this aircraft flies with the latest version of Xplane11 and if they csn't be bothered, why should you?
11/30/2017

3

/

5

Verified Purchase

I do not like the sound engine is not too realistic! You have to update for the real engine noise.
Submit a review of this product
Current Reviews: 3