This addon is compatible with
Microsoft Flight Simulator X
. It should also work with
Microsoft Flight Simulator X: Steam Edition
. Some developers have explicitly stated compatibilty with Steam Edition but others haven't. Check the product description below for guaranteed compatibility. Just because it doesn't mention it, this does not mean it will not work with the
Steam Edition
.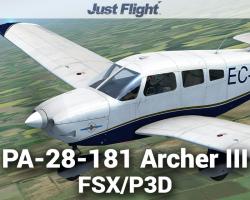 Media Format

Immediate Download

Compatibility

Microsoft Flight Simulator X inc. Steam Edition & Prepar3D (including v4)

File size

926 MB
As one of the most popular aircraft in the Piper range, the Piper PA-28 Archer III stands the test of time. Itís a four-seater aircraft that has become a hugely popular part of the Piper collection, offering a professional pilot experience powered by a 180HP four-cylinder engine.
As one of the most recent takes on the PA-28 range of aircraft, it creates a deeply modern and satisfying feel from within the cockpit.
Now, pilots can take to the skies in this authentic recreation with consummate ease. It comes with many add-ons, from HSI and ADF instruments to new and improved traffic awareness units and stormcope equipment.
For those who are looking to try out a faithful recreation of an aircraft enjoyed throughout the world, be sure to start here. Itís a must-have for those who enjoy civilian aircraft used for all manner of reasons, with this all-purpose Piper making a fun aircraft to fly for purpose or for leisure.
Whatís New?
An authentic take on the PA-28 181 Archer III. Developed using real-life plans and authentic photography of the aircraft.
Fresh HD textures used to help create rich clarity in each of the ten liveries included as part of this download. Bump and specular mapping used for 3D detail.
New and improved virtual cockpit including new accurately modeled features and minor additions, with wear and tear, included for realism.
The operational pilot controls both in the cockpit and overhead the pilot seat. Panel state systems saved automatically for easier management later.
Impressive new aircraft configuration that allows for cold/dark or hot/take-off start-up for your own personal preference.
Newly operational IFR avionics system, giving you an impressive range of options from KMA 21 audio selection to GNS530/GNC255 radio and GPS systems.
Many new IFR systems from TT31 transponders and KN62 DME units to KR87 ADF units and HSI/ADF gauges for easier manipulation from within.
Flight computer panels fully delivering information such as endurance, speed, and fuel-burning rates.
Fully compatible with Flight1 GTN and GNS systems for the virtual cockpit.
New animations crafted from scratch to help ensure the aircraft operates as expected, including new ground equipment such as chocks and tie-downs.
Easy to use new aircraft systems, all designed to help improve operations and control of the airport. This includes new carburetors and primer controls.
New bespoke coding for fuel systems, including automatic switching of fuel tanks for long-distance flights.
Quick and easy refueling made possible thanks to the new refill menu for managing fuel and batteries mid-flight.
New electrical systems coded freshly to include circuit breakers, avionics circuity, and emergency bus control systems.
New failure systems including the chance for batteries to drain, vapor locking and spark plug fouling.
Whatís Included?
In this package, you get access to all manner of useful new features, including impressive new liveries, covering major flights including:
G-CIFY (UK)
G-CCHL (UK)
N6092U (USA)
D-EFVC (Germany)
PH-AED (Netherlands)
C-GUXL (Canada)
HB-PPN (Switzerland)
EC-JQO (Spain)
VH-PPR (Australia)
F-GNCH (France)
These impressive visual designs are further backed up by authentic new sounds, as well as custom sounds for common aircraft features. Youíll also get access to a full new menu to read through for all manner of standard issues, as well as a fully operational Photoshop paint kit.
Now, you can add to the ten professional liveries and create your own bespoke imagery to go with. Perfect for those who want to help roleplay or add some extra variety to images and scenes.
Submit a review of this product