Piper PA-28-181 Archer II for FS2004

1 reviews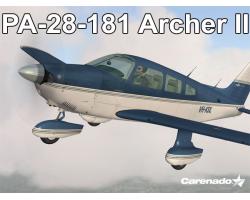 Media Format

Immediate Download

Compatibility

Microsoft Flight Simulator 2004

File size

48 MB
With Piper PA-28-181 Archer II-FS2004 flight simulation software you will feel like you are actually in the cockpit of this aircraft. This software has many features that will help you to learn the cockpit and familiarize you with the PA-28-181 Archer II aircraft system. These features include, but are not limited to: an interactive virtual cockpit, full moving parts, animated sections, lights, and transparent windows.
This simulation software has realistic flight views. So as the pilot, you can fly in both fare and foul weather, as well as in daylight and nighttime lighting. These features, along with the system's realistic performance, real behavior, real weight and balance, and the option of pilot and copilot views will enable you to experience and learn how to deal with real inflight situations as either a pilot or a copilot.
There is also a full checklist and reference text about inflight procedures, so that you can practice emergency flight situations and every day, normal aircraft operation.
Manufacturers Description
Features
Three models: with and without fairings and a mix of both
Four different paints plus a blank texture
Maximum details and realistic textures
**Original HQ digital stereo sounds (44100 HZ) recorded from the original aircraft (NEW FEATURE OF CARENADO)**
GPS 295 installed in the cockpit
Includes: Interactive virtual cockpit
Full moving parts: Ailerons, elevators, rudders, flaps, rolling wheels and trim tab
Animated sections such as: doors, sun visor, copilot seat and vibrating antenna
Lights: Navigation lights, beacons, landing lights
IFR certification
Transparent windows
3D modeled pilot and cockpit area
Many details as: pitot, antennas, chocks, pitot cover, baggage area
Custom VC panel and gauges
This model doesn't have a 2D panel
Realistic light effects on gauges
Nightlight effects on panel
Built-in zoom gauges
Separate switches for instruments lights and dome light
Toggle yoke at VC
Full checklist and reference text about the procedures
Realistic performance
Real behavior compared to the real airplane
Real weight and balance
Pilot, copilot and passenger views
Customer Reviews
Rated 5.0/5.0 based on 1 customer reviews
09/08/2014

5

/

5

As far as light aircraft go, the Piper PA-28 is definitely a favorite for many who choose to use them for personal use, but they are also ideal for use in flight training. Carenado's faithful representation of the PA-28-181 Archer II, is a welcome addition to the Flight Simulator 2004 catalog and is one befitting of high praise thanks to its attention to detail and authenticity. Now available as an immediate download, this is a perfect aircraft for starter pilots, and a worthwhile addition to any pilots virtual hangar.

This package comes with three different models, one with fairings, one without and one that falls somewhere in between. The models are finely crafted, with smooth curves in all the right places and textures that are brimming with details. Each of the four available liveries feature simple designs that accent the natural shape of the aircraft and each of them can be used on any of the models without any issues. The external model features many animated sections and moving parts that help to bring the PA-28's liveliness into the model.

Accurate navigation, beacons and landing lights ramp up the level of realism, but the biggest boon to authenticity is the new original sound set. High quality digital stereo sounds have been recorded directly from the real aircraft, a new feature of Carenado products, and it certainly pays off. The new sound set works wonderfully in blending all the other elements of the aircraft into one unified and compelling model.

The interior of the aircraft is no stranger to detail either. Featuring a 3D modeled pilot and cockpit area, complete with custom panel and gauges, the cockpit is where you can really immerse yourself in the experience. With realistic light effects on gauges, nightlight effects on the panel and a separate switch for instrument lights and dome lights, the virtual cockpit can become very atmospheric; turning off the dome light during a night flight plunges you into the glow of your instruments and the horizon beyond your window.

Carenado seem to have mastered the trinity of strong visuals, audio and flight dynamics, that make it possible to become completely absorbed in the simulated world around you. Thanks to their hard work, the PA-28 provides a fun and authentic flight experience every single time.
Submit a review of this product
Customers Also Purchased