Flying Club Piper PA28-161 Warrior for FSX/FS2004

2 reviews

This addon is compatible with
Microsoft Flight Simulator X
. It should also work with
Microsoft Flight Simulator X: Steam Edition
. Some developers have explicitly stated compatibilty with Steam Edition but others haven't. Check the product description below for guaranteed compatibility. Just because it doesn't mention it, this does not mean it will not work with the
Steam Edition
.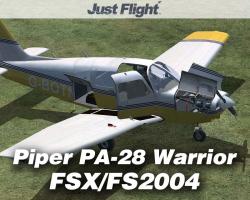 Media Format

Immediate Download

Compatibility

Microsoft Flight Simulator X & 2004

File size

42 MB
For many years, the world of flight simulation has been changing and improving; new models have been included and the level of realism has been getting better all the time. However, one of the biggest bonuses that many flight simulation products carry at the moment is the rather incredible wealth of add-ons that are out there at the moment.
The huge variety to pick from means that whatever you have listed as your favorite aircraft, youíll be able to find one through our website in no time at all!
We take massive pride in the products that we offer, not to mention our latest release from Just Flight. As one of the biggest names in the business, Just Flight produce a whole army of different flight models to pick from, and offer a definitive collection of aircraft to pick from through their General Aviation package. This release allows you to take the absolutely wonderful Piper PA-28 Warrior for a spin in the skies in a manner unlike anything that you will have ever tried before.
Realism is always important for a flight simulator and this really gives you all the help that you need buying into and becoming engrossed with the entire experience. They understand the importance of getting that look and feel right with every project that we take on, so if you want to get everything from the popped open side of the Piper to an aircraft cockpit that looks just like the real thing, this is the place to get started.
The attention to detail on the smallest parts of the design are what really stand out for most people; if you are looking to see an aircraft take on a whole new look and feel, unlike any other remake of the Piper PA-28 Warrior, then this is what you need to do.
Weíll help you arrange a truly epic flight experience through this design, giving you all of the controls and style that you could possibly need to make sure that your flight is going to be completely error free. This can be a big problem for lots of people, of course, as the quality of the flight is typically decided by the safety and craft of the plane that you are flying.
Well, with the Warrior you are getting access to an aircraft that you will find truly reliable and easy to fly. It concentrates all of its skills and capabilities on the fact that it can bomb through the skies at a rather unrelenting pace, and also has a really steady flight style that will keep you moving in the right direction. When you do need to turn, itís just a matter of hitting the right buttons on the cockpit which is absolutely loaded with the kind of features that this aircraft was so popular for.
Interested in flying a really unique kind of aircraft? Then this is the best place to get started!
How It Works
The way that this aircraft operates and moves has been changed completely, thanks to the accuracy and detail within the flight dynamics for the aircraft itself. Very small operations and improvements have been included to make sure that accuracy will always been maintained in everything from the way that the engine reacts to your actions to the operation of the overall aircraft when you make a decision.
Additionally, avionics have been re-jigged to give you access to things like audio control systems, DME, transponders and VHF transceivers. This makes staying up to date with what you would actually be doing in this situation so much easier!
The dynamics of the aircraft are taken to a whole new level thanks to the intervention and amazing quality of the operations that have been included. Each aircraft now comes with an Altimeter which will allow you to see Milibars as inches, which will make it much easier to read for people without long-term experience as pilots. The extra warnings and gauges that are constantly popping up as you go will make life so much easier for you in the long-run, ensuring that you are able to pick up all the details that you would need when flying an aircraft like this.
Key Features
An incredible attention to detail on both the interior and the exterior of this aircraft; hours of hard work and research have been put into recreating the body and shape of this awesome aircraft

Extra liveries are included to make sure that you get all the help that you need in flying the PA-28 Warrior in all of the styles that you are most used to seeing it in yourself!

Available in German, American, French and British registrations to add that extra little bit of authenticity to the overall proceedings!

16 aircraft included in total giving you an absolutely brilliant selection of aircraft to pick from as you rip through the skies in whatever color you want!

Dynamics have been matched to the real thing so that you will get the same sensations and styles that the real thing produces itself. Life becomes so much simpler this way as those with real experience of the Warrior will be able to feel right at home

Compatible with FSX and FS2004 so you can get into the cockpit regardless of what you are flying that day!

Authentic 2D instrument panels have been included to make sure that you are able to get the maximum out of every flight; all the information and detail that you could possibly need will be getting relayed to you at al times making keeping up with the answers that you need that little bit easier than before

Detail from the visuals to the performance have been refined with hoursí worth of footage watched and reviewed. Everything has been made to fit here from the authentic sounds that roar out of the engine to the way that the aircraft performs in different kinds of weather conditions
Customer Reviews
Rated 5.0/5.0 based on 2 customer reviews
01/10/2021

5

/

5

Verified Purchase

Really good rendition of this very popular flying club aircraft
04/05/2016

5

/

5

Verified Purchase

All is nice. The cockpit is exactly what I pilot. Well !
Submit a review of this product
Customers Also Purchased