Piper PA-23 Aztec F 250 for X-Plane

1 reviews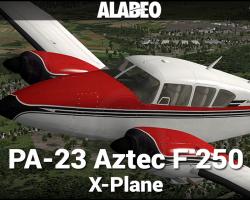 Media Format

Immediate Download

Compatibility

X-Plane 10.40 or higher

File size

440 MB
If you are looking to enjoy a stress-free flight, one of the biggest issues you need is a stress-free aircraft.
With the Piper PA-23, you can make sure that you have a very enjoyable experience overall. Itís an aircraft designed to offer you simplicity and stress-free aviation, offering you a four-to-six seat twin-engine light aircraft which is perfect for numerous different jobs.
The aircraft has been around since 1952, and in that time it has quickly become a hugely reliable aircraft for people of all backgrounds.
The Aztec was first released to great acclaim and offered a huge improvement over the older, dated Piper PA-23 Apache. Produced until 1981, the aircraft was a hugely successful model for Piper.
However, now you can try it out for yourself in the closest detail possible.
This add-on should give you all the help that you need to really see why so many pilots fell in love with the Aztec in the 1950s, 60s, 70s, and 80s.
Whatís new?
Designed for use with X-Plane 10.40 or higher.
Highly modified take on the Piper PA-23 Aztec with various changes ad performance improvements put in place.
3D modeling and texture changes help you to get an aircraft that looks just like the real thing, with impressive detail in every section of the cockpit, too.
Bespoke texture provided to help you create your own livery so that you can fly a Piper PA-23 Aztec that fits your needs.
Fully 64-bit compatible, allowing you to get the very most out of your aircraft if you are using a newer PC model.
A whole new crop of sounds made entirely for the PA-23 to help make sure you can get an aircraft which looks and sounds like the real thing.
New volumetric side view prop effect.
Full support provided for the SuperManipulator scroll wheel system.
New and improved accurately produced flight dynamics to help make sure the aircraft can feel as realistic as possible.
Customer Reviews
Rated 1.0/5.0 based on 1 customer reviews
04/03/2020

1

/

5

Verified Purchase

Installation didnt go well. The installed aircraft didnt appear in X-plane...
Submit a review of this product
Customers Also Purchased