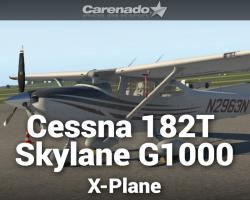 Media Format

Immediate Download

Compatibility

X-Plane 11

File size

250 MB
Designed to be used in X-Plane 11, this take on the Cessna 182T Skylane G1000 offers a new flying experience.
X-Plane users can now take to the skies in one of the most popular Cessna aircraft of its generation. Easy to fly and to get control of, this is an aircraft that makes a fine introduction to custom aircraft.
Designed in the same style as the real aircraft, this manages to capture the interior and exterior very closely. Users can feel a sense of comfort flying the Cessna, as it retains the simplicity of models before and after it.
New pilots should feel at home when flying the Cessna 182T Skylane. This recreation has ensured the cockpit and everything else associated with the interior of the aircraft is designed to be as close to identical as it can be.
After many years of seeing a 182T Skylane in the air, you can now try one out for yourself. This is one of the most popular Cessna aircraft of the era for good reason.
This realistic recreation ensures that you can find out why itís still a popular choice for real-life pilots today.
Key Features
Designed specifically to work within the confines of X-Plane 11 and its new engine dynamics.
It comes with flight physics optimized to fit in with XP11 standards for added realism.
Makes use of Physically Based Rendering and texturing on the interior and exterior model.
Interior and exterior have been both adjusted with a re-done design for XP11.
Custom built interior and exterior adds in many minor and major design features to see.
FMOD sounds included with new and improved audio detail suited to the pilots actions.
Customised default G1000 based on the original X-Plane addition.
PBR materials are designed using industry-standard software in the gaming industry for the best look.
Flies extremely close to the real Cessna 182T Skylane, with realistic weight and flight balance.
Tested by real-life pilots to ensure the aircraft flies as close to the real-life equivalent that it is based on.
Whatís Included?
A fully working take on the 182T Skylane, with interior and exterior model included.
5 HD liveries included with the package, including a black HD livery for editing.
Normal and Emergency procedure guides, as well as performance tables and references.
Autopilot PDF for the KAP140 autopilot that has been included.
Recommended settings for use in X-Plane 11 for the best performance and access.
Submit a review of this product
Customers Also Purchased