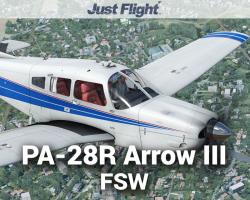 Media Format

Immediate Download

Compatibility

Flight Sim World

File size

700 MB
The Piper PA-28R Arrow III for Flight Sim World is here. This take on a hugely popular aircraft makes it very easy for you to fly an aircraft developed by award-winning developers in FSW. This take on the Arrow III looks to capture all of its pros and cons, and develop a lifelike take on the aircraft.
This four-seater aircraft has long been one of the most popular in its size class. Its tricycle landing gear always keeps it steady when landing, and its piston engine keeps it purring along. This is a commonly used training aircraft and is flown around the world by various forces due to that. It's a common solution in North America and Europe due to its ease of use and consistency in the air.
Now, FSW users can make sure that they have access to a very popular aircraft. With full Cold and Dark starting points, you can take off in the truest sense. It also allows you to populate the aircraft with guests, making it very easy to improve the atmosphere you get from the cockpit. Rendered to fit with FSW standards, this makes use of new graphical features to make the most visually striking Arrow III yet.
The interior and exterior have been given immense work, as has the aircraft' ability to perform. Complete with a booming collection of sounds via Turbine Sound Studios, and this recreates the Arrow III in the most believable manner.
Key Features
Outstanding attention to detail allows this Arrow III to look, feel and fly like the real thing.
Animations and minor features included helping capture the correct atmosphere from within.
Ground equipment such as tie-downs included for the best start-up realism and performance.
Physically based rendering techniques used to help bring this to life and make every texture look as realistic as possible.
The impressive 3D cockpit looks outstanding, with everything from tiny screw heads to seatbelts captured in pristine detail.
Unique textures both inside and outside the cockpit help to deliver an Arrow III that looks very similar to the real thing.
Panel state systems which automatically save panel states after use, saving the need to repeatedly set preferences pre-flight.
Aircraft configuration systems allow you to take off in the way that you wish; cold, dark, or 'hot'.
Fully functional IFR avionics system with NAV1, NAV2, DME IIIB, and GPS fittings alongside a KMA 20 audio selector unit.
Accurately placed minor features including flight timer and clock.
The altimeter works independently for accuracy in the information that it provides.
Bespoke fueling and electrical systems, as well as retractable landing gears and alternative air controls.
Realistic failures such as vapor locks, battery life running out and spark plugs fouling.
11 unique liveries included going with the package, ensuring you can fly an Arrow III with a look that you look.
Authentic flight dynamics and behavior backed up by reactive sounds by Turbine Sound Studios.
Customized sounds for everything from opening doors to swinging switches in the cockpit.
Easy to use manual makes it very easy to take control of this aircraft and fly it without failure.
Submit a review of this product