Glass Simming Tutorial e-Book

2 reviews
Was: $9.16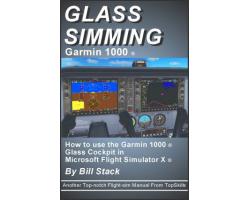 Media Format

Immediate Download

Compatibility

Stand Alone (PDF Document)

File size

8.1 MB
Created by Top Skillsí Bill Stack, this eBook will give you access to all the information that you could possibly need about glass simming. This rather innocuous term may mean nothing to you at this moment, but itís a vital read if you wish to learn about using the best flight simulation technology that we have available today!
Far more expansive and powerful than the guide that you receive when using the most popular flight simulator such as Microsoft Flight Simulator X, this will remove useless information from sources such as the official Garmin 1000 manual, letting you concentrate solely on the actual simulation at first.
What You May Learn
In this guide, then, you will be shown a wide range of key features that are worth learning and concentrating on with regards to advanced and modern simulation, such as;
Learn how to get used to using vital hardware within the cockpit such as the Global Positioning System, or GPS. By getting used to using key features of this such as direct-to navigation and Waypoint navigation, you will make it easier to understand some of the more advanced concepts and elements that the electronic instruments included bring to the table.

Get used to why having access to glass cockpits are far more effective and useful than the more old-school yet dated form of mechanical cockpits. With modern aircraft there is only one choice and this eBook will help you understand why glass cockpits are the choice of todayís pilots.

Start to come around to the idea of the excellent Garmin 1000 glass cockpit, helping you sift through the pointless details delivered in the past and concentrate instead on ďthe meatĒ. This will help you get to grips with the glass cockpit and the range of controls it has open to you, allowing you to easily access some vital details throughout the flight and also help you find as many pages as you need to thoroughly analyze your flight. Likewise, youíll learn how to manage various knobs, switches, buttons and soft keys along the way.

Not only this, but you will also be provided with a first class tutorial of how to read the primary flight display, a critical part of your usage of the cockpit. This will allow you to go through each function on its own merits and learn of its various controls including managing various pop-up windows throughout. All of the details presented on each screen will be explained in detail.

Find out how to get into the Garmin 1000 audio panel in the MSFS design, ensuring that you can get used to managing the communication and navigation buttons as and when you need to use them in flight.

Control the multi-function display, or MFD, and ensure you can use each item on their own merits. Going from top left to bottom right, this includes more or less every page and page group Ė this lets you see what information is presented, and when. This will also let you use various controls to send information across when itís required.

The engine indication system in the Garmin 1000 is another vital part of the process, and with this program you will show you how to manage this in models such as the Cessna 172, Beechcraft Baron 58 and various other displays so that you can get to grips with what displays you may need during flight.

Learn how to accomplish various results throughout, as you can start to find out how to deal with more problems and find answers to questions that have bugged you about glass cockpits for many years!
Using Your PDF
The first solution to learn with when using this is to use the Primary Flight Display, as it offers such a range of useful features and additions that you can make the most of right away. By helping you understand how to read displayed data and understanding the sliding tapes, youíll have no problem managing this system.
It will also help you use pop-up windows, change frequencies, setup barometric pressure, change map ranges and turn pages amongst other vital tools. Each of these, when used properly, will make your flight education much simpler.
Managing the MFD
Getting used to the Multi-Function Display will help you greatly as a pilot, ensuring that you can get to grips with doing various tasks such as reading the moving map to selecting what information is to be displayed on each section. It can take time and patience to get used to this but doing so will make your life much simpler in the long-term.
By using both your Engine Indication System and your Flight Management System, you can get to grips with a very useful tool in your cockpit. Youíll also be shown how to change pages and read text pages to learn further details.
Accessing the Audio Panels
The audio panel is a very important part of your learning process in general and with the usage of this you can make sure that you are learning how to turn the Com radio sound on and off, the DME signals on and off and the radio Morse Code on and off at the same time. Managing all of this can be hard work, but itís made much simpler if you use the correct techniques along the way, taught here.
Manage Navigation Radios
The navigation side of radio usage is very important as it will help you use effective systems such as market beacons, voice radios, and even set up the transponder so that you can get the full level of effect that you need from the aircraft.
By doing all of this, you do make it much easier for yourself to get the kind of response that is needed as well as ensure that your general flight competence and comfort can be improved massively.
Utilize Glass Instruments
The glass instruments out there that you might wish to use are very useful as they will help you start to manage and improve yourself as time goes on. Using waypoint groups to learn how to use the nearest groups, for example, is a very useful solution and is something that you will be shown how to do directly through this system.
As well as this, you will be shown to re-route flight plans, find airports and navaids as well as learn about going Direct to a waypoint/destination. Each situation that you decide to try and tackle will be relatively easy for you to work out, ensuring you have no problems getting to where you wish to be.
The Perfect Learning Tool
This entire package has been written so that the reader can put this information into action all across the board Ė to do that, though, it has to be understood. This is why every function has been given a clear, step-to-step guide that covers every last part of the design in general. It also means that you can easily follow along thanks to the simple and easy-to-follow text that was prepared for use with this.
Add in the excellent graphical depictions and it soon becomes easy to see why this is the ideal learning tool for anyone who wishes to start educating themselves on glass simming in general. Chapters are focused on specific models and this will really help you find where you need to go, with quick reference tables added in to make that job even easier for you in the long run, with a full index added for speed.
To ensure that the message is made loud and clear, this has been written with the express assistance and help from a team of professional pilots, trained writers and editors and experienced flight sim experts. This ensures that information is evergreen, accurate, professionally put together and easy to understand. If you wish to become a better and more resourceful pilot then this guide can be just what you need to keep yourself on the right track.
Itís made to be easy to read as you can now view it on all PDF readers such as Adobe, Nitro, Nook, Libre and Kindle devices making it widely accessible and easy to use whenever you need it. However, please note that whilst itís for universal use as it applies to any aircraft that uses the Garmin G1000 cockpit, this is a document that is meant for home simulation use and never for professional training purposes.
INCLUDED Ė FREE V-Speed Card!
This little extra can be just what you need to keep yourself learning from the best and improving all the time, with minimum maximum and optimal speeds all put across clearly and accurately. With abbreviations for alphabetical order and relative speed on both side, you will find clear and accurate descriptions across the board that will make V-speed easier to get to grips with.
Itís applied universally, too, as itís something that applies to every aircraft rather than just one selection or two out there Ė this makes it a very useful table to get used to using!
Customer Reviews
Rated 5.0/5.0 based on 2 customer reviews
10/22/2015

5

/

5

The Garmin G1000 Glass Cockpit is a wonderful piece of kit that you can have some great flight experiences in, but it can be quite different from what you may be used to and can also be qutie tricky to learn. That is why TopSkills have produced an e-Book tutorial to help with exactly that. This e-Book will teach you the ins and outs of the G1000, allowing you to enjoy it while flying safely and confidently.

Where real-world aviation manuals may bog you down with an unnecessary amount of information, and the simulation software itself often doesn't give you enough, TopSkills makes an effort to find a space somewhere in the middle; it provides you will the all the information and know how you need, without wasting your time on arbitrary stuff that isn't necessary in a flight-sim environment.

All the information contained within is based on real-world aviation laws, regulations and procedures, helping to make the whole experience more realistic. It is all tailored, however, to a home-flight simulator setup, and knowledge gained from this tutorial should therefore not be applied to real-world aviation, as there are obviously differences between the two.

With careful consideration given to the design of this tutorial, inside you will find a layout that promotes self-learning. With clear and concise wording, the text is easy to follow and is aided at points by graphical depictions and reference tables. The chapters flow smoothly from one to the next, in a logical order; it will never reference something that hasn't already been covered.

At your own pace, you will learn about all the advantages of using a Glass Cockpit, specifically the G1000 and how to accomplish specific objectives. Careful guidance will take you through all of the various knobs, switches, buttons and soft-keys, while breakdowns of the Primary Flight Display, Multi-Function Display and Audio Panel will get you comfortable and ready to learn how to use them all effectively.

All of the lessons learned in this e-Book can be extrapolated, adapted and applied to other glass cockpits; learning how to use the Garmin G1000 Glass Cockpit will give you a foundation of knowledge that you can take with you and rely on. Yet more reasons that this e-Book is worth taking a look at.
12/15/2017

5

/

5

Verified Purchase

These guys are simply the best for service and almost everytime price
Submit a review of this product
Customers Also Purchased