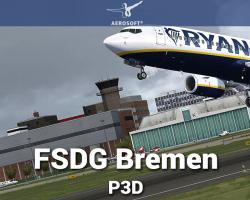 Media Format

Immediate Download

Compatibility

Prepar3D v4

File size

1 GB
While many choose to visit popular northern German cities such as Hamburg, Bremen is a wonderful place to come instead. Itís a city of music and discovery, of culture and creative appeal. Itís also a location with rich Hanseatic heritage and, thus, massive experience and passion for aviation and aerospace technologies. Thatís why itís a city that any pilot with Prepar3D v4 should look to fly. Across a 1GB+ add-on, you can make Bremen stand out like never before.
Over the years, many airlines have come from the Bremen area, including Germania and OLT Express. Many of these airlines are based within or near Bremen, and thus this is a city with a rich collection of places to fly to and from.
With European hotspots and hubs all across the world popular for holidaying, flying from Bremen is a common occurrence for German jet setters.
Now, you can play the role of their pilot in this realistic recreation of the entire airport area. itís a great place for you to fly from if you are roleplaying, with companies such as Atlas Air Service regularly departing from here. Itís also got some nearby shipyards and horse fields, so you can see that Bremen is a city known for its love of transport Ė of all kinds.
Bremen is a brilliant airport to fly to and from in a flight simulator. This add-on looks to populate the airport and the surrounding areas with some very impressive features and improvements which are authentic to real-life.
The end result is an airport that feels hugely enjoyable to visit and enjoy. Whether youíre simply looking to make Germany more complete for an aviation perspective or you just want a new airport to visit, add Bremen to your collection.
The mix of beautiful scenery and challenging but rewarding landing and take-off spots ensures that pilots will enjoy a suitable flying experience.
Key Features
A realistic level of detail across the entire Bremen Airport area and slightly beyond.
Level of detail does not stop off just at the airport gates Ė nearby areas are edited, too.
Shadows and lighting are remade to fit in with every single part of the airport.
Dynamic lighting technology has been developed to ensure authentic lighting.
SODE jetways and animations made from scratch to fit with modern standards.
Airport vehicles and facilities are rebuilt and remastered for P3D v4 standard detail.
Animated apron traffic is now visible as you fly to, land at, and depart from the airport.
Compatible with major add-ons such as AES, UTX, FSGlobal, FTX, and GSX.
Submit a review of this product