This addon is compatible with
Microsoft Flight Simulator X
. It should also work with
Microsoft Flight Simulator X: Steam Edition
. Some developers have explicitly stated compatibilty with Steam Edition but others haven't. Check the product description below for guaranteed compatibility. Just because it doesn't mention it, this does not mean it will not work with the
Steam Edition
.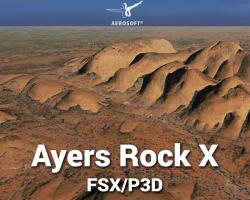 Media Format

Immediate Download

Compatibility

Microsoft Flight Simulator X inc. Steam Edition & Prepar3D v4/v5

File size

610 MB
As regular simulation users will know, the rocky lands of Australia often tend to miss out on the same attention to detail as other parts of the world. Many times, it can look like a blaze of red; never quite as it should. With this FSDG package, though, parts of Australia will look much more like its real self. This add-on particularly deals with Ayers Rock – or Uluru. For many, it's the most important landmark in Australia and it draws crowds from across the globe to come and see it.
Now, you can land at the new and improved take on Connellan Airport and take a flight over this tremendous natural landmark. This is an airport that can handle jets as large as a Boeing 737-800, too, so you can easily come here and enjoy the view of something a little larger, too!
With a capacity of 300,000 people per year, this location – and the city of Yulara – will make sure you can come along and see something truly special unfold below you. If you are sick of flat and soulless sands, then this can offer the opportunity that you need to get around these problems without issue.
If you have never been to this amazing part of Australia, now is the time to fly overhead and see it for yourself! It's a truly special location that has now been brought to a much more adequate level of attentive detail.
Key Features
A full rebuild of not just Ayers Rock and Uluru, but also Connellan Airport and the surrounding areas in exquisite detail.
Photorealistic terrain and impressive architecture help to make the landscape and the city look outstanding.
Accurate layout and scaling of scenery and the airport allow for a much-improved take on a very popular part of Australia.
Activate the airport lighting on the runways to make sure that you are safe when trying to make your landing!
2048 x 2048 pixels scenery adds a massive level of detail that simply would not be possible with default scenery.
Outstanding depth and detail to the shadowing make this is the perfect place to come, even at night when shadows are cast in authentic detail.
Major landmarks such as Kata Tjuta and various smaller villages all stand out, adding life and energy to the scenery as well as the wider area.
Massive changes to the overall add-on package make sure its compatible with major add-ons like FTX Australia.
Optimized for greater performance to save you noticing a drop-off in performance; suitable for just about any mid-tier hardware.
Submit a review of this product