This addon is compatible with
Microsoft Flight Simulator X
. It should also work with
Microsoft Flight Simulator X: Steam Edition
. Some developers have explicitly stated compatibilty with Steam Edition but others haven't. Check the product description below for guaranteed compatibility. Just because it doesn't mention it, this does not mean it will not work with the
Steam Edition
.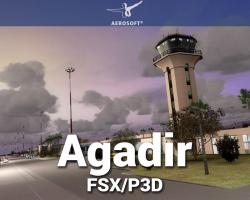 Media Format

Immediate Download

Compatibility

Microsoft Flight Simulator X inc. Steam Edition & Prepar3D (including v4)

File size

900 MB
This highly impressive take on Agadir is a fine location to book your holidays for!
Known for having a very welcoming and warm climate, a trip to Agadir via Al-Massira Airport is usually one for sun, sea, and smiles. While you might not quite have the time to book a two-week holiday here in real-life at the moment, scout around the place with this scenery package. Developed by FSDG, this helps to add just under 1GB worth of new content to this amazing part of Morocco.
As a jewel of North African culture, Morocco is a truly special nation to visit. Enriched by an exciting past and an engaging future, taking a trip her via Agadir makes obvious sense. This tremendous airport, the third largest in the country, makes the perfect destination when you want. This outstanding, warm climates and happy, healthy living experiences.
This makes a fine place to come when you are looking for a truly special experience. If you are either from Morocco or would like to visit, why not use this package to get yourself used to what you might expect?
This takes Agadir and turns it into the sun-soaked haven that it is, rather than the barren venue that exists in default simulation.
Key Features
For one, this is a truly special take on the Agadir Al-Massira Airport. This impressive complex is a truly special airport, and is one that should offer a whole new flight experience for you to enjoy.
The outstanding detail that has gone into everything from the creation of fresh textures to the smart way that shadows and lights are put together helps to create the most wonderful object.
Volumetric lighting shines across the whole airport, lighting it up as one would expect when visiting somewhere as beautiful as Morocco.
New P3D V4 users will be able to enjoy a much more impressive form of dynamic lighting, too, engulfing the airport in greater realism and visibility.
Dusk and dawn show a whole new side to one another; watch as the airport changes and alters as the sun sets and rises.
Development has gone into making this as optimized as possible. This allows for highly impressive visual qualities without ever reducing or limiting the performance that you get.
Compatible with major scenery packages such as FTX Global, UTX and FSGlobal.
Manual included for the easiest use and management of your trip to this exceptional airport. Learn everything you need to know about Agadir Al-Massira airport!
Submit a review of this product