B-1B Lancer for FSX

1 reviews


This addon is compatible with
Microsoft Flight Simulator X
. It should also work with
Microsoft Flight Simulator X: Steam Edition
. Some developers have explicitly stated compatibilty with Steam Edition but others haven't. Check the product description below for guaranteed compatibility. Just because it doesn't mention it, this does not mean it will not work with the
Steam Edition
.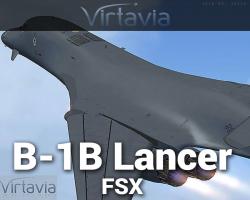 Media Format

Immediate Download

Compatibility

Microsoft Flight Simulator X

File size

140 MB
As the Lancer was first released, many people found that it seemed to carry a rather unique style and format when compared to many of its competitors on the market; the fact it soon became the most popular bomber on the planet for some time gives you all the information you need to know about its long-term success.
With a ridiculous swing wing technology mixed with four 30,000lb thrust turbofan engines, you are left with a lethal combination of power and precision. This will give you the keys to see just how this machine held up, with a stunning remake of the aircraft and all of its associated looks and styles coming together in the one perfect melting pot.
What's Included?
This package makes it easy for you to see the quality and the strength of the Lancer, but you will also get to see how it looks in real-life. The details included in this package will do everything they can to easily transform and alter your perceptions of the aircraft, whilst giving you access to some amazing liveries.
The details that are included within this package include various liveries. In total, you will get access to four unique models of the Lancer alongside eight awesomely re-done and faithful paint schemes, which include additions such as;
28th BMS(H), 384th BMW(H), McConnell AFB
46th BMS(H), 319th BMW(H), Grand Forks AFB
37th BMS(H), 28th BMW(H), Ellsworth AFB
128th BS, 116th BW, Robins AFB
34th BS, 366th BW, Mountain Home AFB, Idaho
77th BS, 28th BW, Ellsworth AFB
37th BS, 28th BW, Thumrait AB
9th BS, 7th BW, Bagram AB
Key Features
This makes use of a native FSX model, transforming it and making it look as authentic and as attractive as they possibly can. The whole model really captures the design and the realism that was originally included in FSX and takes it to the next level with fantastically designed textures and additions. Likewise, the aircraft makes use of all of the features available in FSX to give you the most authentic remake of this aircraft that has ever existed. The Lancer will now feel like a true part of your FSX experience as you start to use it regularly

The experience is improved and made to feel even more realistic thanks to the addition of the brilliant virtual cockpit. This looks excellent and does everything that it can to capture the right form of animations for each response from the cockpit, alongside providing as many mousable controls as possible

Various customized interior and exterior animations are added in, with automatic wing sweeps being included on load-up to ensure that the whole thing can come together and make things feel as comfortable as possible for you. Indeed, the whole thing comes together in the most enjoyable fashion possible, capturing features accurately

The opening bomb bays work perfectly well, giving you the right kind of feeling for just what level of power the Lancer was cutting around with. Indeed, you can even include various loadouts that have been included over various generations, letting you see the true scale of power of the Lancer

Indeed, it comes with an animated afterburner came that has a very realistic flame effect to it. This looks outstanding and also adds a nice, much needed, layer of realism to the whole thing whilst capturing the detail and the design needed to really make it feel genuinely authentic

Fully DX-10 compatible so if you are using a more modern machine you should have no problem getting this to work even in DX-10 Preview! This also comes with awesome self-shadowing features that really do capture the fearsome levels of precision that you would have been expecting when using this

Night lighting textures and effects are included inside, with various individual gauges and panel lighting making it even easier to capture than ever before. Indeed, the whole system really manages to detail what you need to get the entire package to come together and look as modern and effective as it can

The quality of the textures and the detail has been caught up perfectly with the design and the format of the sound set included. Turbine Sound Studios sounds are added in to really capture the depth and the format of the aircraft perfectly, making it sound just right

Customized afterburner sound effects are added in, giving you a true appreciation of the force and volume of the "rumble" that comes from the cockpit of an aircraft like this when you are flying around, doing everything that you can to really understand the depth and power of the noise

Engine failures and fire modelling features are added in, making sure that you are more likely to come across authentic problems when you are flying. This adds another nice layer of realism to the whole thing, giving you a unique and interesting range of sounds and effects brought to life

Researched and authentic flight dynamics will come to life here in the most dramatic manner possible; the real burst and power of the Lancer will be felt here unlike any other model that you may have tried out. The whole thing feels spot on, giving you that deep, enriching experience

This is alongside the various simulated cockpit systems that burst into life, including the VSD, to give you an unprecedented level of simulation when you are inside the cockpit itself. This really does bring the whole thing to life in the most dramatic fashion that it possibly can moving forward

No 2D panels are included as this makes the most of some rather awesome 3D panels that are offered instead, giving you all the help needed to really fit the whole thing together and notice the depth and effect needed as the 3D panels included instead bring everything to life

Need help in piloting this aircraft and making it do the hard work for you? Then you should consider using the 37-page PDF illustrated user manual provided. This PDF format e-book is a piece of cake to read, giving you illustrations and details throughout to make your life much easier
Customer Reviews
Rated 4.0/5.0 based on 1 customer reviews
01/05/2017

4

/

5

Verified Purchase

For that price it is acceptable the plane respons realistic with turnings
Submit a review of this product
Customers Also Purchased