This addon is compatible with
Microsoft Flight Simulator X
. It should also work with
Microsoft Flight Simulator X: Steam Edition
. Some developers have explicitly stated compatibilty with Steam Edition but others haven't. Check the product description below for guaranteed compatibility. Just because it doesn't mention it, this does not mean it will not work with the
Steam Edition
.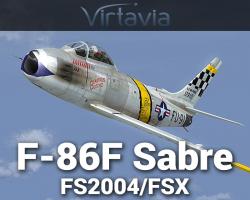 Media Format

Immediate Download

Compatibility

Microsoft Flight Simulator X & Microsoft Flight Simulator 2004

File size

23 MB
Given the overall power and the presence of the aircraft itself, the F-86 Sabre manages to carry all of the requirements needed of it. First released to be the true replacement for the F-80 Shooting Star, this aircraft managed to become the key style during the late 1940s.
It was first introduced to the USAF back in 1949, and soon became a clear front runner as the latest and greatest of their air technology. It was noted quite quickly for having an incredible level of performance compared to the vast majority of its contemporaries, winning it incredible respect and affection.
It was also known for being extremely easy and effective to handle as well as having a huge level of adaptability. This range and style made it a popular choice for pilots across a range of countries, enjoying its open and adaptable nature that makes it without a doubt one of the most powerful aircraft of the era that it served in.
The aircraft itself was noted as a member of many different NATO-affiliated countries who, and was also produced outside of the US as Canadians also took up this aircraft. It served as a key member of the various forces it flew under with little under 10,000 being created. Infact, today this aircraft is still being enjoyed by private users!
This package manages to recreate the aircraft in all of its stunning detail, with a newly updated engine making it a far superior selection to all of its predecessors, as well as ensuring that it comes with the larger wings that this was so well known for. In general, this manages to give you total access to the aircraft – cockpit and everything – which makes it nice and easy to fall in love with this aircraft, relic or not!
Key Features
The model that is provided is the famous 39th FIS model, the Beauteous Butch. This model held an incredible level of respect within the teams that it served under and has been made to match the resplendent and charming nature of its real-life counterpart, with every detail imagined

Two specific models have been included in this package to ensure that you are left with a clean and crystal looking model that carries all of the hallmarks of the real thing, making it nice and easy to hop into the cockpit and feel as if you are getting control of the real thing as you take off!

High quality sound sets are included to try and capture the real boom and the audio that emits from an aircraft as powerful as this. This will make it much easier for you to buy into the aircrafts overall depth and power, ensuring that you can get the full story of the Sabre in action!

Likewise, excellent details and animations are included throughout such as that of the pilot to ensure that you are getting something that really look like the real thing. Realism is vital when using a simulator and this makes it nice and easy to buy into the vision

Rain effects have been made up for you to use, as well. This makes it easy for you to see the rain bounce off of the aircraft and to give you a more realistic look to the aircraft if you have just come out the other end of a particularly heavy storm!

2D panels are made from scratch and used with ease, giving you all the help that you need in getting used to the high resolution panels that look outstanding and give you a hugely welcoming and realistic cockpit to take control over. Additionally, the all-XML setup makes it incredibly easy to control and mess around with

It also gives you access to the brilliant custom pop-up menus for the ECU, autopilot and radio functions which make it much easier to control the aircraft and have an easier flight. These can all be controlled with just a single click of the mouse!

Custom effects are made up so that you can fly around and see things like the turbines glowing or even the smoke bursting out from the back of the aircraft

Detailed checklist to ensure that your performance can stay at a consistently high level of performance

Everything covered in here is done so using the most highly detailed and exquisite textures possible. Literally every last bolt and rivet is shown here as you get a picture perfect recreation of all the real textures and materials that would have been used in the creation of this aircraft

The model itself has been made fully native for FSX, with all of its main features being included with the likes of self-shadowing, bloom effects and bump mapping all being included .this allows the full picture to blossom when looking at this, making it nice and easy to understand what you are dealing with and also ensuring it's much easier to get to grips with inside the cockpit

Likewise, the model has been created using stunning V-C self shadowing. All of this looks absolutely outstanding and manages to really capture the feeling that you would have been looking for in terms of realism and precision. However, this requires the usage of FSX SP2 or DX10 preview mode to ensure that it looks the very best that it ever possibly could

Various additions to the model are included, with droppable drop tanks being added on alongside a canopy that can be ejected if you ever feel the need. Add in the hugely detailed pilot that sits in the cockpit and you can feel like you are truly at home with this!

Authentic virtual cockpit has been created from scratch to ensure the whole package it's together in the most stunning fashion. The whole thing needs to be managed and looked after effectively, using a highly detailed range of animations and controls that are managed by using the mouse to ensure you have full control over every detail that occurs as you fly around
Submit a review of this product