This addon is compatible with
Microsoft Flight Simulator X
. It should also work with
Microsoft Flight Simulator X: Steam Edition
. Some developers have explicitly stated compatibilty with Steam Edition but others haven't. Check the product description below for guaranteed compatibility. Just because it doesn't mention it, this does not mean it will not work with the
Steam Edition
.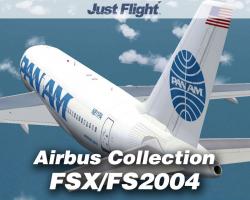 Media Format

Immediate Download

Compatibility

Microsoft Flight Simulator X & 2004

File size

262 MB
As one of the most popular aircraft companies of all-time, Airbus have created some genuinely iconic aircraft in their time and therefore it's no surprise that many want to use these aircraft in their flight simulation experiments. The first thing that many of us will look to when we go to use any simulation software is the authenticity provided, and thankfully the Microsoft Flight Simulator range – both 2004 and X – are some of the most authentic available. This means that if you are willing to download some extras, you can make the simulator so much more engaging than it once was.
Included is the A300-600R, A300-600ST Beluga and the A310.
This excellent Airbus Collection for FSX & FS2004 gives you all the help that you need to fly some of the most desirable and enjoyable aircraft in the globe in a whole new level of detail and authenticity helping to make sure that your knowledge and development can grow along with being able to fly some of the coolest designs possible.
Just Flight, the creators, have made many hugely impressive packages before now that have been well received for various reasons, mainly due to their incredible level of detail put into every aspect of the design of the aircraft each time and making sure that it feels as authentic as possible.
If authenticity is what you are looking for, then this Airbus Collection is just what you need. Providing you with a fine range of Airbus aircraft – with more than 30 in total to pick from – you get stunning detail both inside the cockpit and on the outside, giving you the closest possible representation that you will find in a virtual format. It brings many fresh animations to the table that haven't been seen before in such high detail giving you an aircraft package that gives you clear definition between the vanilla packages and this new design style.
Virtual cockpits have been totally remade for each aircraft too so that it looks, feels and operates just like the real thing each and every time. This means whether you pick the A300-600R or the A310 you will be able to see a significant difference in terms of the looks, style and overall performance between each aircraft.
By carrying huge volumes of passengers from one side of the earth to the other, Airbus has made a name for itself as a hugely important part of the aircraft community because it takes on such large-scale transport jobs. If you want to use these high-end flying machines that are suitable for long distance flying and taking large numbers of people from one location to the next, then this Airbus package is just what you need. Likewise, if you have a love for aircraft and want to experience every type that you possibly can then this gives you definitive access to the amazing world of Airbus and every little feature and facet that they are able to offer you detailed within the flight simulator as closely as it possibly can.
Key Features
With more than 30 unique aircraft to fly – all offering you their own personal styles and performance levels – you should never run out of Airbus aircraft to fly and operate over the coming months and years. This gives you all the help that you need in setting up the right type of flight experience regardless of the aircraft that you choose

Highly detailed models both interior and exterior wise – from the smallest spoilers to the most important aspects of the design and structure of the vehicle, this makes it easier than everyone to find an aircraft style and personality that they believe suits them best

Interactive cockpits designed from the ground up designed with the intention of making something truly outstanding in design each and every time. This makes it simple and effective for someone to really put themselves in the finest position possible when trying to learn the intricacies and differences between various Airbus aircraft, making the education even easier than ever before

Many accurate liveries included giving you plenty of selection as to what you will be looking for when it comes to the aircraft's actual outer design and paint job – you can even make your own if you have a graphical manipulation tool like Photoshop, making designing your own brand of aircraft easier than it has ever been in the past

Unique animations made from scratch just for this system to make sure that the aircraft move just as they would in real-life – this is the child of many hours of study of even the slightest twinges and movements from an aircraft that is currently up in the air

Dynamic viewpoints have been added that allow you to take in the aircraft in all of its HD beauty, making the flight process even easier than it's been in the past. If you want to take the aircraft from the side using the wing as your main viewpoint, then you can do just that with a click of a few buttons!

Dynamic shines and reflections have been added to even further add to the quality and control of the entire design and style of the various Airbus ships included within this design. Perfect for those who are looking to see a big difference between the original aircraft in the simulator of your choice and the edited creations that have been released by Just Flight in here

Detailed virtual cockpit additions in every aircraft gives you an incredible level of control over what you are doing, where you will be going and what kind of features you should have available – each aircraft in this package is the product of many hours of detailed research, close-up interviews with pilots and experts and a huge amount of watching and reading scientifically proven and factually correct media programs and audio

Every last detail included with each aircraft provided so that you can get the very best value for your money possible, leaving you with an aircraft pack that's full of aircraft which are both enjoyable to fly and incredibly varied
Submit a review of this product
Customers Also Purchased