This addon is compatible with
Microsoft Flight Simulator X
. It should also work with
Microsoft Flight Simulator X: Steam Edition
. Some developers have explicitly stated compatibilty with Steam Edition but others haven't. Check the product description below for guaranteed compatibility. Just because it doesn't mention it, this does not mean it will not work with the
Steam Edition
.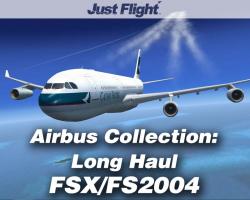 Media Format

Immediate Download

Compatibility

Microsoft Flight Simulator X & 2004

File size

1.02 GB
As one of, if not the most, user-friendly and enjoyable aircraft firms in the world itís no surprise that the Airbus range is one of the most popular for use in flight simulators. They provide you with a fine balance of speed, power and capacity by giving you a truly remarkable aircraft thatís hard to match even in the most delicate of factors Ė if you want to use some of the enjoyable aircraft on the web within a flight simulator then you should really consider downloading this fantastic Airbus Collection.
Compatible with both Flight Simulator X and FS2004, you get access to various aircrafts from the range with eight models in total being enlisted with you, giving you a fine balance and variety in the type of aircraft that you will be flying as well as their general style. This is a fantastic addition to anyone looking to boost their flight simulation collections and ensure that they have the most user-friendly collection possible.
Each and every one of these aircraft has been designed to provide you with totally custom utilities that fit with the real thing, giving you an incredibly dynamic yet real balance of the type of features and capabilities that your aircraft has. Additionally, you are given extra tools and features that enhance your simulation such as a stand-alone tool that makes switching from models and liveries easier than ever before, making it much simpler to balance and test out each model against one another.
Additionally, each model has been made to brutal efficiency and the highest possible standards of design and feature inclusion. From the tiniest bolts that are almost invisible to the amazing quality of the design on the interior cockpit and the aircraft itself, you get something that truly resembles what you are supposed to be flying. This makes it easier for the flight enthusiast to put themselves in a position of genuine power when you are trying to learn the smallest details and most intricate of adjustments to the system.
Learning and improving your flight capabilities while having fun is what the simulation world is for, and this helps you do both in massive amounts Ė all it takes is a few simple changes and additions to the system and you have a whole new aircraft, so we help you get as close to the real thing as the simulators themselves will allow so that your education is as clear as possible.
Everything has been taken care of from the design quality and realism to the way that the aircraft operates Ė the virtual cockpit has been made from scratch to provide custom and authentic Airbus gauges and various other Airbus displays and styles inside to make the aircraft as effective and powerful as it possibly can.
If you want to know even more about the aircraft that you have purchased, then you can read the usage manual guides that come with each and every aircraft that is provided.
Key Features
Hugely detailed models that represent one of the eight unique aircraft provided, meaning that you will be able to tell the difference between each model and version with absolute ease, every single time

Interactive 3D virtual cockpit design that makes your life easier than ever, giving you genuine locations of each and every button that the simulator you are using can feasibly give you access to, making the process feel more realistic than it ever has in the past

2D panels included that come with custom gauges that move and react to the actions that you make, giving it a much higher level of quality than ever before and making sure that you have an aircraft truly fit for purpose and one that you can easily understand and read

More than 150 liveries provided in the end to give you the most dedicated and easily selectable design style possible Ė whatever youíre favorite company or airliner is, youíll be able to find their flag flying high under the various liveries provided!

Various views included that make it simple to see the world unfold around you as you fly through the skies. Whether itís the wing view or you wish to be able to see the wings and others features from the cockpit as you look around, you can easily enable whatever you feel most comfortable with for an effective flying pattern once again

Dynamic shine and wing flex makes the aircraft look even more realistic as you sail through the air, giving you a truly unique design that is hard to match with the normal aircraft provided in any of the flight simulators

Realistic lighting and illumination at night time giving you an aircraft that looks as good as the real thing 24/7, making it easier than it ever has been for a would-be pilot to get used to what they are seeing as it will closely resemble what you would be seeing in real-life

New animations have been included for just about every typical aircraft function such as jet blasts, thrust reverserís right through to things like doors and flaps opening and closing to give you an aircraft that feels as real as it looks!

Fully animated controls surface that reacts to your touch and usage, even further enhancing the quality of the aircraft that you are flying

Highly detailed and bespoke sound set that sounds incredible when you roar through the air and hear authentic sounds of the aircraft that you are flying come back at you Ė itís these small differences and additions that make al the difference

Engines modeled and improved that match the real thing, with hours of specifications and research gone into getting the design of each aircraft just right and so that it absolutely exudes authenticity and realism

Layered paint kit included for simple livery creation if you wish to have your own flag flying high in the skies of the world

Detailed manual makes learning even the most intricate parts of the process simple
Submit a review of this product