This addon is compatible with
Microsoft Flight Simulator X
. It should also work with
Microsoft Flight Simulator X: Steam Edition
. Some developers have explicitly stated compatibilty with Steam Edition but others haven't. Check the product description below for guaranteed compatibility. Just because it doesn't mention it, this does not mean it will not work with the
Steam Edition
.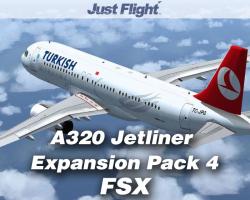 Media Format

Immediate Download

Compatibility

Microsoft Flight Simulator X and Just Flight A320 Jetliner

File size

23 MB
This product is an expansion for the Just Flight A320 Jetliner - you must have this base package installed to use this expansion.
If selection is what you need from any aircraft that you want to take into the skies, then you have come to the right place. As the fourth part of the expansion series for the excellent A320 Jetliner created by Just Flight, this package can be the perfect addition to your own list of projects.
Now, you'll be able to take off into the skies and look the best that you possibly can with some flash new liveries that take in airliners from all across the world. This adds that extra bit of flavor that you may have felt was missing from the original.
By building on all of the amazing features that was brought in by the original package you can add to the aesthetic pleasure of it all. This gives you all the help that you need to blend both together and get that truly unique flying experience.
If you are looking to get something a bit more from the original package – as great as it is – then you might want to start your search here. It's got plenty of value, and brings some of the most prominent liveries to the forefront, making life so much easier.
What You Get
If you download this package – the fourth of the set – you will be getting a fine set of new liveries that make sure that you have plenty of choice anytime you fancy taking out this aerial behemoth.
Designed to give you true class and comfort with the details of the original package being as intricate and close to the real thing as possible, this can be the ideal solution for anyone who wants to start flying their favorite aircraft when it carried the marks of important airliners such as;
Air Berlin
Aegean Airlines
Spanair
Philippine Airlines
TACA International
Turkish Airlines
Virgin USA/America
LAN Airlines
Key Features
Give your attempts to fly the A320 Jetliner in the most realistic manner possible another shot in the arm with a new set of liveries that look great and operate in the kind of license that you were looking for in terms of authenticity and style

Ensure that your aircraft will perform as well as look the best that it can; these textures are modeled to run at high levels even on the lower performance settings so you'll be able to match up quality with performance as easily as possible

Create a whole new lifestyle and format for your flight simulation experiences by giving yourself even more variety. When you add in the amazing animations that the original puts in place, you have a truly realistic looking aircraft that will perform to the standards of the real thing whilst adding extra value

Make sure that your flight simulation experience can be as deep as possible; with this package you'll be learning a lot more about the A320, including where it's most regularly used across the world and how it typically seems to look when it flies under different banners and airlines!
Submit a review of this product
Customers Also Purchased