This addon is compatible with
Microsoft Flight Simulator X
. It should also work with
Microsoft Flight Simulator X: Steam Edition
. Some developers have explicitly stated compatibilty with Steam Edition but others haven't. Check the product description below for guaranteed compatibility. Just because it doesn't mention it, this does not mean it will not work with the
Steam Edition
.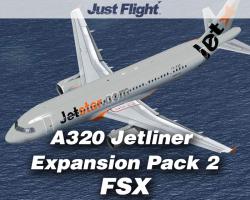 Media Format

Immediate Download

Compatibility

Microsoft Flight Simulator X and Just Flight A320 Jetliner

File size

23 MB
This product is an expansion for the Just Flight A320 Jetliner - you must have this base package installed to use this expansion.
The spice of life has, and always will be, variety. Whilst the Just Flight A320 Jetliner package is one of the most well received of their product launches to date, everything can always be improved and expanded upon. The main thing that you want to see when you download any good expansion pack, of course, is that it adds some nice new things to the table.
This expansion pack – the second in a series of four – gives you access to some brand new liveries for flying your stunning A320 Jetliner around in. the variety and style of the aircraft that you are flying will be very important for adding a bit of extra life and quality to the overall project, and you'll find that this is the perfect way to do just that. By taking on the immense qualities of the original product, you'll be able to benefit massively.
The original product was created to provide stunning authenticity, but it may not have had enough liveries to keep everyone satisfied. As one of the most enjoyable aircraft ever released to the public, it's no surprise that people want to fly the A320 Jetliner in the real colors that they have seen themselves!
So, if you are looking to represent your own countries national airline with the real livery and logos that they carry, this can be the perfect way to get the ball rolling. This expansion package will help you start to get even more selection and ensure that when you are flying your A32 0that you never get sick of the sight of the same liveries over and over again; with so much to pick from, it becomes so much easier to fly the aircraft knowing it's just what you wanted!
What You Get
As you can imagine, this package gives you access to some truly epic flight simulation liveries. All of these designs have been remade from scratch and include only the highest possible quality of textures. This means that you'll be able to get yourself back into the skies and flying for the country that you represent properly. With the official logos included of so many different big name airline firms, this can be the perfect companion for anyone who wants to explore. You'll get access to;
All Nippon Airways
Air Lingus
Alitalia
Delta Air Lines
Indian Airlines
Jetstar
Vueling
Wizz Air
Key Features
Created to make the most enjoyable FSX experience possible, all of the liveries included with this package have been remade time and time again to deliver the most realistic look and feel possible. Just Flight are well recognized for their devotion to getting things right within the flight sim community and this does the perfect job of doing so

Totally augment your current flight experience by being able to get involved right away with new liveries that really make your aircraft look the part. When matched in with the original qualities of the vanilla release, you've got a true epic
Submit a review of this product
Customers Also Purchased