A320 Jetliner Expansion Pack 1 for FSX

1 reviews

This addon is compatible with
Microsoft Flight Simulator X
. It should also work with
Microsoft Flight Simulator X: Steam Edition
. Some developers have explicitly stated compatibilty with Steam Edition but others haven't. Check the product description below for guaranteed compatibility. Just because it doesn't mention it, this does not mean it will not work with the
Steam Edition
.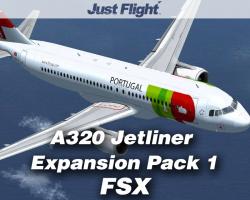 Media Format

Immediate Download

Compatibility

Microsoft Flight Simulator X and Just Flight A320 Jetliner

File size

23 MB
This product is an expansion for the Just Flight A320 Jetliner - you must have this base package installed to use this expansion.
For many years, the A320 jetliner has been one of the most regularly used aircraft around. This is an expansion package that lets you have more liveries for the Just Flight A320 Package. If you want to use this package and get the most out of it, then this livery set can be just what you need to see the quality shine through and to give you the kind of experience that you have been looking for. The detail and attention to hard work on every last package that is released gives everyone the chance to really enjoy something different when it comes to flying the A320 Jetliner.
The original package provides you with so much extra quality and class that it can be quite hard to really work out what else needs to be added; one thing that Just Flight believed were lacking in the final creations, though, was the liveries. As one of them most popular aircraft of its time, it's no surprise that the A320 is one of the most in-demand aircraft in terms of companies that use it. This means that the livery selections for this are more varied than ever.
Looking to really benefit from these extra liveries and give yourself something truly epic to remember your aircraft for? Then this is just what you need to get the party started. These extra additions within the expansion package let you take this truly awesome authentic fighter out into the skies and really enjoy it for all that it's worth. There's plenty to do and see with this package, but this will give you more variety than ever before and make flying the aircraft in the look, feel and style that you wanted so much easier than before!
What You Get
In this package, you'll receive access to a variety of different liveries for your A320 Jetliner package. The new inclusions will let you fly the aircraft using the colors and the shape of many of the most popular aviation companies that have taken on this package previously. Looking to really engage with your passengers and fly the right kind of aircraft for whatever task that you have decided to take on? Then all of the following liveries will be open to you;
US Airways
TAP Portugal
JetBlue Airways
Iberia
China Eastern Airlines
Air Canada
Air Asia
Mexicana de Aviacion
Key Features
Developed for use within FSX, these new liveries will take on the graphical qualities of the simulator and make it look even better than before

Comprehensive details and stats included, making the entire flight feel as realistic as it possibly can – wherever in the world you're going, this can help

3D designs and textures that really make the aircraft come together, with a huge attention to detail on every last part of the product design

Accurate animations created from scratch to make the aircraft look and fly just as it should

Many more additions, which you can check out here
Customer Reviews
Rated 4.0/5.0 based on 1 customer reviews
03/22/2016

4

/

5

Verified Purchase

I will be honest but fair!! Having used FSX for the last 15 years, I've only recently started purchasing ad-on aircraft over the past two years. I wanted to fly the Airbus fleet so I started with the A320 Base Pack. I was happy with the way they handled as well as the liveries included. But I was very unhappy with all of the uneven engine sounds for each plane and lack of flight deck clatter. I mean not even working seat belt/no smoking warning chimes?

So I just purchased the A320 Expansion Pack hoping for different results! Unfortunately, it was exactly the same. Now, to be fair.....though you get what you pay for, I am HAPPY with both purchases and I will continue to browse through your online flight shop going forward!!!

Wingman 8
Submit a review of this product
Customers Also Purchased