This addon is compatible with
Microsoft Flight Simulator X
. It should also work with
Microsoft Flight Simulator X: Steam Edition
. Some developers have explicitly stated compatibilty with Steam Edition but others haven't. Check the product description below for guaranteed compatibility. Just because it doesn't mention it, this does not mean it will not work with the
Steam Edition
.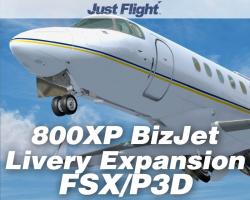 Media Format

Immediate Download

Compatibility

Microsoft Flight Simulator X & Just Flight 800XP BizJet Base Pack (available here).

File size

40 MB
Having new liveries can be a huge change, even if sometimes it feels like they aren't changing that much at all. Instead of letting your aircraft experience become dull and unambitious, though, you can turn to the excellent 800XP Bizjet Livery Expansion package here from Just Flight.
Please note that you will need the original Just Flight 800XP BizJet modification to use this properly. You can download this mod from here.
As an aircraft known for its swagger and its style, the 800XP Bizjet has now been changed and improved beyond normal recognition with the introduction of this excellent new livery package. By giving you liveries rom all across the world in stunning high definition detail, you can take to the skies in the original mod and finally look the way that you wanted.
Although the Just Flight 800XP Bizjet mod looks wonderful to begin with, these new liveries helps to sell the image and the overall profile of the aircraft with ease. Now, you can fly around and see the world in the way that you had wanted in the first place.
The super stylish livery styles that are being used here will cover every element of the aircraft, making sure that you are no longer flying an imperfect recreation of the 800XP Bizjet. From the imperfect design of the angled stripes and the white nose of one livery to the bright and shiny, tropical style of the next you'll find it easier than ever to fall in love with the 800XP Bizjet all over again with this mod.
You even get the brilliant high contrast livery from YESSS Electrical. This is primarily white whilst using a diamond blue sheen across it, with red on the wingtips adding another little layer of color the aircraft. It's these little differences and changes that can make such a big difference to your overall flight enjoyment, and the 800XP Bizjet offers that in abundance.
Want to fly properly from here on in? Then these wonderful liveries will do all that you need to ensure that this is the case. By actively capturing the look and feel of so many popular liveries, you can finally start flying with a bit of realism in tow. Now, you can start turning the heads of other pilots with this mod by making sure you finally look as realistic as you can in a simulator.
Included Liveries
Inside this package, you'll get the following liveries included for your usage;
G-IFTF - Albion Aviation
OY-JJA - JoinJet
B-3901 - DeerJet
M-YCEF - YESSS Electrical
N773HR - Elite Air
HB-VLG - Bosch Corporation (Swiss)
ZS-AFG - Gabon Government
Submit a review of this product