This addon is compatible with
Microsoft Flight Simulator X
. It should also work with
Microsoft Flight Simulator X: Steam Edition
. Some developers have explicitly stated compatibilty with Steam Edition but others haven't. Check the product description below for guaranteed compatibility. Just because it doesn't mention it, this does not mean it will not work with the
Steam Edition
.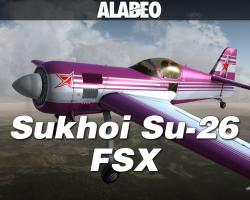 Media Format

Immediate Download

Compatibility

Microsoft Flight Simulator X inc. Steam Edition & Prepar3D including v4

File size

44.2 MB
The Alabeo Sukhoi Su-26 (for FSX) is an expansion to Microsoft's Flight Simulator X and Prepar3D. It is a single-seat, propeller-powered aircraft, designed for aerobatics. It is the second sim plane released by the company, following the successful PITTS S-2S.
This model is an high-quality representation of the well-known Sukhoi Su-26, the plane made famous by the 1986 World Aerobatics Championships. As such, you can expect this plane to be highly maneuverable, and Alabeo has quite successfully captured that aspect. Included with your download is a PDF documenting many of the maneuvers of which this machine this machine is capable.
Alabeo's 3D modeling of the Su-26 is incredibly well-detailed, all the way down to the rivets, horizontal stabilizers, and fuel cap. It meets and exceeds the graphical standards that FSX pilots have come to expect. A high-quality sound set is included with the plane, to further secure your immersion. Of course, what would an aerobatics plane be without smoke? The model includes a high-quality, BIG smoke effect, to skywrite to your heart's content. Alabeo has gone on to continue releasing planes for FSX and other simulator platforms, all of which have received critical acclaim. If you dream of adding one of the world's finest aerobatic planes to your FSX hangar, this is the one for you.
This plane is recommended for intermediate to experienced pilots. It requires a knowledge of more advanced aircraft controls and terminology. However, for sim pilots looking to try their first aerobatics plane, this model is recommended. Consult the included data sheet for limitations and maneuver instructions.
Please note that, like many products here, this file requires Service Packs 1 and 2 for FSX. These downloads can be obtained through Microsoft's Download Center.
Alabeo recommends a graphics card with a minimum of 256MB of RAM. As this is a highly detailed model which also includes a smoke effect, it is best to exceed the minimum suggested requirement in order to attain maximum performance.
Manufacturers Description
Features:
Blank textures for creating your own designs.
Custom smoke effect
Real flight model.
High quality 3D model, textures and sounds.
Detailed aerobatics maneuvers PDF.
Get Free Liveries after you buy it!
Included:
2 liveries
1 Blank texture
Custom smoke effect
Datasheet PDF
Aerobatic PDF
Reviews
As a model - I like it! It flies pretty nicely and will fly pretty much exactly where you point it. The Alabeo Su also has a far prettier interior VC model than many other planes. The sound is also very nicely done and you will really have a blast flying this model. - SimMarket
Submit a review of this product
Customers Also Purchased