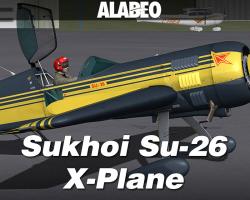 Media Format

Immediate Download

Compatibility

X-Plane 10.40 or higher

File size

106 MB
Now version 3.2.
With these packages Alabeo delivered the promise of making all its Alabeo X-Plane fleet full X-Plane 10 compatible.
Alabeo aim to deliver high quality add-on packages that encompass the joy, the challenge and the fun of flying. So what better way to do that than with this amazing recreation of the Sukhoi SU-26 aerobatics plane. This single seater aircraft from the former Soviet Union has been piloted to victory in numerous aerobatics championships and is now available for you to pilot in X-Plane 9.6 or higher.
A super detailed 3D model resembles the real thing very closely, down to the smallest details. From the air vents around the engine housing, to exposed cables inside the fixed landing gear, its a very impressive model. Made all the more attractive by two included liveries, in striking color schemes; black with yellow stripes and pink with white stripes which should be considered fitting for an aircraft designed to hold peoples attention. These textures are very well crafted and boast wonderful light shines, that look particularly impressive on the domed cockpit. More liveries become available to download for free as soon as you make your purchase. These include that of the Red Bull Matadors, Honda Dream Team and Air Marugan. Of course, there is always a blank texture that you can use to create whatever livery you would like. Maybe you could even make one for your very own aerobatics team?
The three blade propeller and the engine behind it, sound very true to the real thing. Taking into account the various highs and lows of the engine through numerous stalls and spins, Alabeo have done a great job creating a sound set that accurately represents the SU-26's performance. This performance, and all the various skills that go with aerobatic flight, can be learned and mastered using the included PDF document that contains details on all the aerobatic maneuvers you could possibly need to take home the gold.
True to their word, Alabeo have created both a fun and very challenging aircraft, that offers a nice change of pace for any pilot ready and willing to learn some new skills.
Features:
Blank textures for creating your own designs.
Real flight model.
High quality 3D model, textures and sounds
Detailed aerobatics maneuvers PDF
Get Free Liveries after you buy it!
Submit a review of this product